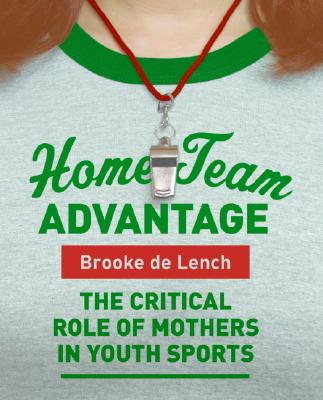 Home Team Advantage
The Critical Role of Mothers in Youth Sports
Paperback

* Individual store prices may vary.
Description
Over the past decade, the stakes in youth sports have reached startling heights; the pressure to win often eclipses the desire to have fun. Sports injuries have increased tenfold; aggression on and off the field—between kids, parents, and coaches—is at a fever pitch; and drug and alcohol use among young athletes is on the rise. While there are plenty of books that help the best-intentioned parent, most of them are written by men, for men. They do not address concerns specific to mothers, nor empower them to confidently step onto the out-of-control playground to assume whatever role they choose—spectator, advocate, administrator, coach, fund-raiser, or team mom.
Home Team Advantage is an essential resource manual that will inspire women to confidently tackle some of the issues preventing their kids from enjoying sports. Brooke de Lench authoritatively covers issues ranging from ensuring playing time and confronting out-of-control coaches to countering the "winning at all costs" mentality. Packed with real-life anecdotes and information from experts, Home Team Advantage provides constructive, practical, and forward-thinking advice to help mothers understand the critical role they can play in putting the words fun, game, and play back into youth sports.
Praise For Home Team Advantage: The Critical Role of Mothers in Youth Sports…
Her stories refresh my hope for the future of youth sports. Her book is just what sports moms desperately need.
— Shari Young Kuchenbecker, Ph.D., author of RAISING WINNERS

This immensely readable book assembles brilliantly the most important lessons learned from parents, respected athletes, educators, physicians, trainers and coaches.
— Eli Newberger, M.D., Professor at Harvard Medical School and author of THE MEN THEY WILL BECOME

An invaluable resource...superbly informative and educational...for not only every sports mom, but educator and parent as well.
— Robert C. Cantu, M.D., Neurosurgeon, Co-Director Neurological Sports Injury Center Brigham and Women's Hospital, Boston. Author of Neurological Head and Spine Injuries.

A book every family needs to have and utilize to keep their children safe and off the field.
— David Janda, M.D., Orthopedic Surgeon, Director of the Institute of Preventative Sports Medicine.

For those with a stake in those children who are involved in sports, de Lench is important reading.
— Paul Bearmon, M.D., Emergency Room Physician, President of "Keep 'em All Playing"
Harper Perennial, 9780060881634, 320pp.
Publication Date: September 5, 2006
About the Author
Brooke de Lench is the founder and editor-in-chief of MomsTeam.com, an online publication for mothers parenting children active in youth sports. She also established Teams of Angels, a nonprofit charitable organization dedicated to reducing catastrophic injury in youth sports. She is the mother of three sons and lives in the Boston area.