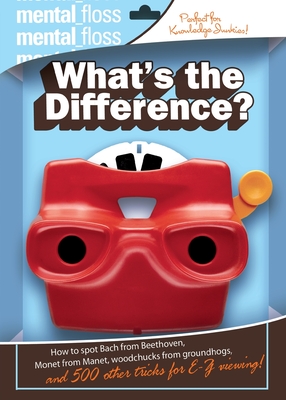 Mental Floss (Paperback)
What's the Difference?
William Morrow Paperbacks, 9780060882495, 208pp.
Publication Date: July 3, 2006
Other Editions of This Title:
Paperback (5/30/2006)
Paperback (7/3/2006)
Paperback (10/31/2006)
* Individual store prices may vary.
Description
Enlighten Up Already!
Monet? Manet? Who can even tell the difference? Well, with the help of the newest mental_floss tome, you can! Want to learn how to tell egg rolls from spring rolls, nuclear bombs from dirty nuclear bombs, or even how to tell an idiot from a moron (there's a real scientific difference)? Piece of cake! Whether you're trying to impress your boss, your mother-in-law, attractive singles, or a pack of fourth graders (you know how they love semantics), mental_floss gives you all the tips and tricks to have you sounding like a genius.
About the Author
Will Pearson and Mangesh Hattikudur met as first year students at Duke University. Ignoring the lures of law school and investment banking, the pair co-founded mental_floss and have been grinning ever since. Maggie Koerth-Baker is a freelance journalist and a former assistant editor at mental_floss magazine, where she consistently astounded Will and Mangesh with her amazingness.
Praise For Mental Floss: What's the Difference?…
"A lot like that professor of yours who peppered his tests with raunchy jokes: it makes learning fun."
— Newsweek

"A delightfully eccentric and eclectic new magazine."
— Washington Post

"The titans of trivia."
— Newsweek

"An ideal reference to settle arguments or jog your memory."
— Calgary Herald