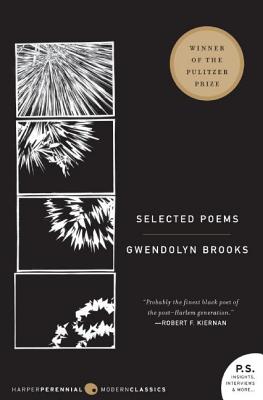 Selected Poems
Paperback

* Individual store prices may vary.
Description
Selected Poems is the classic volume by the distinguished and celebrated poet Gwendolyn Brooks, winner of the 1950 Pulitzer Prize, and recipient of the National Book Foundation Medal for Distinguished Contribution to American Letters. This compelling collection showcases Brooks's technical mastery, her warm humanity, and her compassionate and illuminating response to a complex world. This edition also includes a special PS section with insights, interviews, and more—including a short piece by Nikki Giovanni entitled "Remembering Gwen."

By 1963 the civil rights movement was in full swing across the United States, and more and more African American writers were increasingly outspoken in attacking American racism and insisting on full political, economic, and social equality for all. In that memorable year of the March on Washington, Harper & Row released Brooks's Selected Poems, which incorporated poems from her first three collections, as well as a selection of new poems.
This edition of
Selected Poems
includes
A Street in Bronzeville,
 Brooks's first published volume of poetry for which she became nationally known and which led to successive Guggenheim fellowships;
Annie Allen,
published one year before she became the first African American author to win the Pulitzer Prize in any category; and
The Bean Eaters
, her fifth publication which expanded her focus from studies of the lives of mainly poor urban black Americans to the heroism of early civil rights workers and events of particular outrage—including the 1955 Emmett Till lynching and the 1957 school desegregation crisis in Little Rock, Arkansas. 
Praise For Selected Poems…
"Probably the finest black poet of the post-Harlem generation."
— Robert F. Kiernan

"More than any other nationally acclaimed writer, Brooks has remained in touch with the community she writes about."
— Washington Post

"When Miss Brooks. . . writes out of her heart, out of her rich and living background, out of her very real talent, then she induces almost unbearable excitement."
— New York Times

"From her poet's craft bursts a whole gallery of wholly alive persons...Many a novelist cannot do so well in ten times the space."
— Christian Science Monitor

"Miss Brooks has a very fine talent. . . a faculty which is becoming rare in contemporary poetry: an interest not merely in her own responses, but in other people as well."
— Paul Engle
Harper Perennial Modern Classics, 9780060882969, 176pp.
Publication Date: July 3, 2006
About the Author
Gwendolyn Brooks (1917—2000) is the Pulitzer Prize-winning author of Annie Allen and one of the most celebrated Black poets. She also served as consultant in poetry to the Library of Congress—the first Black woman to hold that position. She was the poet laureate for the state of Illinois for over thirty years, a National Women's Hall of Fame inductee, and the recipient of a lifetime achievement award from the National Endowment for the Arts. Her works include We Are Shining, Bronzeville Boys and Girls, A Street in Bronzeville, In the Mecca, The Bean Eaters, and Maud Martha. You can find out more about her at www.gwendolynbrooks.net.