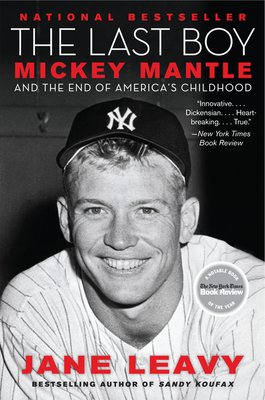 The Last Boy (Paperback)
Mickey Mantle and the End of America's Childhood
Harper Perennial, 9780060883539, 512pp.
Publication Date: October 4, 2011
* Individual store prices may vary.
Description
Award-winning sports writer Jane Leavy follows her New York Times runaway bestseller Sandy Koufax with the definitive biography of baseball icon Mickey Mantle.
The legendary Hall-of-Fame outfielder was a national hero during his record-setting career with the New York Yankees, but public revelations of alcoholism, infidelity, and family strife badly tarnished the ballplayer's reputation in his latter years.
In The Last Boy, Leavy plumbs the depths of the complex athlete, using copious first-hand research as well as her own memories, to show why The Mick remains the most beloved and misunderstood Yankee slugger of all time.
About the Author
Jane Leavy is an award-winning former sportswriter and feature writer for the Washington Post. She is the author of Sandy Koufax and the comic novel Squeeze Play, called "the best novel ever written about baseball" by Entertainment Weekly. She lives in Washington, D.C.
Praise For The Last Boy: Mickey Mantle and the End of America's Childhood…
"The Last Boy is something new in the history of the histories of the Mick. It is hard fact, reported by someone greatly skilled at that craft...and presented so that the reader and not the author draws nearly all the conclusions."
— Keith Olberman, The New York Times Book Review

"Every kid growing up in New York in the '50s wanted to be Mickey Mantle, including me.... Jane Leavy has captured the hold he had on all of us in this gripping biography."
— Joe Torre, bestselling author and former manager of the New York Yankees

"Leavy shows Mantle at his unfathomable worst and unrecognized best. For even the most ardent Mantleologist, The Last Boy, is an education."
— Time magazine

"This is one of the best sports biographies I have ever read. Beautifully written and thoroughly researched, it reveals with stunning insight both the talents and the demons that drove Mickey Mantle, bringing him to life as never before."
— Doris Kearns Goodwin, Pulitzer Prize winning author of Team of Rivals

"Do not walk—sprint—to the bookstore to get a copy of The Last Boy."
— Boston Globe

"In sharp detail and graceful style, Leavy cuts through the myth and treats us to a rarely known Mantle: more flawed, more human and more likeable. A terrific read."
— Tom Verducci, Co-author of the #1 bestseller The Yankee Years

"The only thing about this book that is better than Jane Leavy's vivid prose is her astonishing reporting. To my knowledge, no one has ever investigated the life of an American athlete with Leavy's rigor and thoroughness."
— Daniel Okrent, author of Last Call: The Rise and Fall of Prohibition and Nine Innings

"The Last Boy is stunning. Jane Leavy captures the beautiful, imperfect Mickey Mantle with equal measures of depth and empathy. She finds the buried answers to the riddle of what drove and haunted the Mick."
— David Maraniss, author of Clemente and Lombardi: When Pride Still Mattered

"Definitive."
— Sports Illustrated

"Engrossing.… The Last Boy is a fresh, thorough examination of Mickey Mantle's life."
— New York Newsday

"[The Last Boy] is a tale deftly told, rich in detail, unvarnished and unsparing, researched to a fare-thee-well, alternatively fluid and florid, and without staleness because Leavy has found a new angle from which to come at a well-worked-over subject."
— Philadelphia Inquirer

"Part biography, part memoir, and part fan's note, The Last Boy is the most complete book ever about Mantle."
— Salon.com

"Candid, compassionate...the best of the Mantle biographies."
— Kirkus Reviews (starred review)

"With storytelling bravado and fresh research...[in] Leavy's hands, the life of Mantle no longer defies logic. She hits a long home run."
— Publishers Weekly (starred review)

"A masterpiece of sports biography."
— Booklist (starred review)