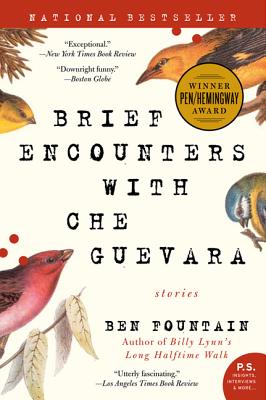 Brief Encounters with Che Guevara (Paperback)
Stories
Ecco, 9780060885601, 272pp.
Publication Date: April 10, 2007
Other Editions of This Title:
Digital Audiobook (9/30/2013)
Hardcover (8/1/2006)
* Individual store prices may vary.
Description
The well-meaning protagonists of Brief Encounters with Che Guevara are caught—to both disastrous and hilarious effect—in the maelstrom of political and social upheaval surrounding them. Ben Fountain's prize-winning debut speaks to the intimate connection between the foreign, the familiar, and the inescapably human.
About the Author
Ben Fountain was born in Chapel Hill and grew up in the tobacco country of eastern North Carolina. A former practicing attorney, he is the author of Brief Encounters with Che Guevara, which won the PEN/Hemingway Award and the Barnes & Noble Discover Award for Fiction, and the novel Billy Lynn's Long Halftime Walk, winner of the National Book Critics' Circle Award and a finalist for the National Book Award. Billy Lynn was adapted into a feature film directed by three-time Oscar winner Ang Lee, and his work has been translated into over twenty languages. His series of essays published in The Guardian on the 2016 U.S. presidential election was subsequently nominated by the editors of The Guardian for the Pulitzer Prize in Commentary. He lives in Dallas, Texas with his wife of 32 years, Sharon Fountain.
Praise For Brief Encounters with Che Guevara: Stories…
"...exceptional story collection..."
— New York Times Book Review

"In this first collection the author brings the virtuosity of Greene and le Carre to tales of foreign adventures."
— Boston Globe

"Brilliant..."
— Seattle Times

"An impressive and entertaining book of short stories..."
— Newsday

"An impeccable debut collection; if Fountain can keep it up, he's an heir to Paul Theroux."
— Kirkus Reviews

"Exhilarating first story collection."
— New York Newsday

"…exceptional story collection…"
— Raleigh News & Observer

"Ben Fountain writes deftly about fear and disorientation abroad in his first story collection."
— Outside magazine

"[Fountain] is a gifted storyteller and his collection will blow your literary socks off."
— Tucson Citizen

"Wildly plotted, astutely observed, and beautifully rendered."
— Daivd Means, author of Assorted Fire Events and The Secret Goldfish

"Fountain has the storytelling gifts to bring the world home to us and a moral compass set to true north."
— Gary Shteyngart, author of Absurdistan

"Fountain's confidence in taking on real world problems is matched by his reluctance to pontificate or judge."
— Nell Freudenberger, author of The Dissident

"It is such an unexpected joy, in this age of introspection, to discover an American writer with a global outlook."
— Jim Crace, author of Genesis and Being Dead

"Ben Fountain...blew me out of the water. These stories are absolutely jaw-dropping."
— Audrey Bullar, team leader, Jospeh-Beth Booksellers, Cincinnati, Ohio, for PW's Galley Talk

"[A] brilliant...exhilarating book, filled with heavenly language and insight."
— Tom Bissell, author of Chasing the Sea and God Lives in St. Petersburg

". . .finely crafted. . . irony abounds in Fountain's mini-theaters of the absurd."
— Texas Monthly

"Fountain ... gets his message across without forsaking characterization and vivid descriptiveness. . .a revealing view of the human condition."
— Miami Herald

"...Fountain's stories reach for a broader engagement...This book is a step in the right direction."
— Boston Sunday Globe

". . .wonderful. . .lush, sophisticated...very funny. . .Fountain is an original..."
— Boston Herald

"Ben Fountain writes the kind of stories that Robert Louis Stevenson, Joseph Conrad and Graham Greene used to write."
— Dallas Morning News

". . .grand. . . darkly funny. . . important as anything you will see on the nightly news."
— Deseret Morning News

"[Fountain's] really a bright light on character in extreme conditions."
— Will Blythe, The News and Observer

"An exceptional story collection. . . Heartbreaking, absurd, deftly drawn. . ."
— New York Times Book Review

"Ben Fountain writes the kind of stories that Robert Louis Stevenson, Joseph Conrad and Graham Greene used to write...
— San Diego Union-Tribune

"... Fountain['s]excursions into foreign infernos have an innocence all their own."
— Cleveland Plain Dealer

"Superb debut story collection... Fountain knows the Third World; he [writes] with a precision that suggests firsthand knowledge."
— Salon

"The work of a talented writer pursuing compelling and complicated themes."
— Austin Chronicle

"...an author with a gift for reaching into the past and producing something compelling and new."
— Los Angeles Book Review

"Fountain is a writer to watch; better, a writer to read."
— Buffalo News

" ... Fountain chooses just the right details, metaphors, similes and descriptions...life rendered in sentences seem[s] as life lived."
— San Francisco Chronicle

"... an author with a gift for reaching into the past and producing something compelling and new."
— Baltimore Sun

"Ben Fountain takes readers all over the world, navigating the alleys of the human soul with an expert's hand."
— The California Aggie

" ...the ambition and global outlook of Fountain's fiction marks a welcome addition to the literature produced in our state."
— Houston Chronicle

"Short-story collections don't come much better than this. Brief Encounters With Che Guevara offers pointed prose, nimble revelation..."
— Philadelphia Inquirer

"Fountain... is the perfect author to convert people who don't read short stories."
— Arkansas Democrat-Gazette

"He imbues each narrative with an understanding of international politics and conflicts, and the sticky moral complexities involved."
— Cleveland Plain Dealer