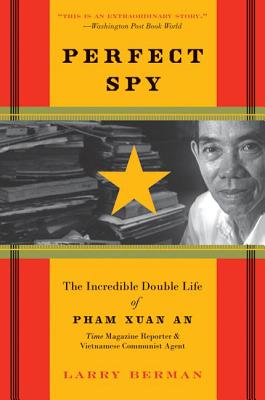 Perfect Spy (Paperback)
The Incredible Double Life of Pham Xuan An, Time Magazine Reporter and Vietnamese Communist Agent
Harper Perennial, 9780060888398, 336pp.
Publication Date: May 13, 2008
Other Editions of This Title:
Hardcover (4/24/2007)
* Individual store prices may vary.
Description
During the Vietnam War, Time reporter Pham Xuan An befriended everyone who was anyone in Saigon, including American journalists such as David Halberstam and Neil Sheehan, the CIA's William Colby, and the legendary Colonel Edward Lansdale—not to mention the most influential members of the South Vietnamese government and army. None of them ever guessed that he was also providing strategic intelligence to Hanoi, smuggling invisible ink messages into the jungle inside egg rolls. His early reports were so accurate that General Giap joked, "We are now in the U.S. war room."
In Perfect Spy, Larry Berman, who An considered his official American biographer, chronicles the extraordinary life of one of the twentieth century's most fascinating spies.
About the Author
Larry Berman has written four previous books on the war in Vietnam: Planning a Tragedy: The Americanization of the War in Vietnam; Lyndon Johnson's War: The Road To Stalemate in Vietnam; No Peace, No Honor: Nixon, Kissinger and Betrayal in Vietnam and Perfect Spy: The Incredible Double Life of Pham Xuan An, Time Magazine Reporter and Vietnamese Communist Agent. He has been featured on C-SPAN Book TV, Bill Moyers' The Public Mind and David McCullough's American Experience. He has been a Guggenheim Fellow and a Fellow in residence at the Woodrow Wilson International Center for Scholars. He received the Bernath Lecture Prize for contributions to our understanding of foreign relations and the Department of the Navy Vice Admiral Edwin B. Hooper Research Grant. Berman is Professor Emeritus at the University of California, Davis and Founding Dean of the Honors College at Georgia State University. He lives in Atlanta, Georgia.
Praise For Perfect Spy: The Incredible Double Life of Pham Xuan An, Time Magazine Reporter and Vietnamese Communist Agent…
"Larry Berman in his book—insightful, overdue, an authentic 'Shock and Awe' story—deftly humanizes the contradictions in An's life"
— -Bernard Kalb

"Berman has done an excellent job… There's plenty here for both supporters and critics of the Vietnam War to ponder."
— Dan Southerland, former correspondent for The Christian Science Monitor in Saigon

"Berman has unraveled the mystery of his strange double life in an engrossing narrative."
— Stanley Karnow, author of Vietnam: A History and winner of the 1991 Pulitzer Prize in history

Praise for NO PEACE NO HONOR "A marvelous piece of work."
— Daniel Ellsberg

Praise for NO PEACE NO HONOR "Carefully researched, authoritative, and highly readable."
— Stanley Karnow, author of Vietnam: A History

Praise for LYNDON JOHNSON'S WAR "A masterful job."
— Marvin Kalb

Praise for LYNDON JOHNSON'S WAR "Highly readable, full of telling quoted from newly opened sources."
— Walter Lafeber

Praise for LYNDON JOHNSON'S WAR "Berman has delivered the coup de grace."
— Townsend Hoopes

"A remarkable blend of biography, history, and personal experience... Highly recommended." ---A.O. Edmonds
— Library Journal