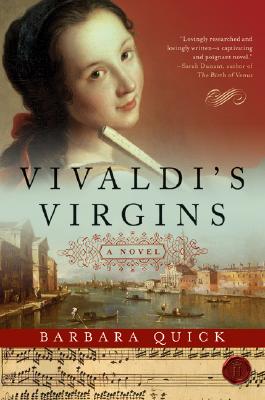 Vivaldi's Virgins
A Novel
Paperback

* Individual store prices may vary.
Other Editions of This Title:
Compact Disc (3/31/2020)
MP3 CD (3/31/2020)
Hardcover (7/1/2007)
Description
Abandoned as an infant, fourteen-year-old Anna Maria dal Violin is one of the elite musicians living in the foundling home where the "Red Priest," Antonio Vivaldi, is maestro and composer. Fiercely determined to find out where she came from, Anna Maria embarks on a journey of self-discovery that carries her into a wondrous and haunting world of music and spectacle, bringing eighteenth-century Venice magically to life.
Praise For Vivaldi's Virgins: A Novel…
"Quick has chosen a fascinating backdrop. Her novel shimmers.…This is a good read."
— Booklist

"Quick's descriptions of Anna Maria's violin playing soar off the page, evoking Vivaldi's own compositions."
— San Francisco Chronicle

"A genuine successor to [Tracy Chevalier's Girl with a Pearl Earring]."
— Houston Chronicle
Harper Perennial, 9780060890537, 304pp.
Publication Date: July 29, 2008
About the Author
Writer and poet Barbara Quick is the author of the novels Vivaldi's Virgins and Northern Edge, winner of the Discover Prize. A Golden Web is her first book for teen readers. An avid traveler and student of other languages, she has run an international boardinghouse; written everything from self-help books to humor columns to grant requests for disadvantaged children; and done whatever jobs she needed to do -- from landscape gardening to catering to editing -- to allow her to continue writing. She lives with her teenage son, Julian, in the San Francisco Bay Area, where she takes frequent classes and occasionally performs with a Brazilian dance troupe.
Vivaldi's Virgins is the story of a young girl's coming of age and finding the right path for herself in a life in which her choices were very narrow. What do you think of Anna Maria's choice to stay on as a musician and teacher at the Ospedale della Pieta?
The novel is also about the influence of mentors in our lives. Sister Laura and Vivaldi empower Anna Maria to come fully into her own as a human being and a musician. La Befana, on the other hand, is a toxic mentor. And Anna Maria herself becomes an empowering mentor for Bernardina and the other students assigned to her. Have you had an important mentor in your life? Have you ever had a toxic mentor—someone who had power over you and used it to hurt you?
Eighteenth-century Venice had an approach to caring for its unwanted and abandoned children that is very different from ours in twenty-first century America, in which a child like Anna Maria would have been put in foster care and maybe moved from placement to placement until she reached the age of 18. What chance would a musical prodigy like Anna Maria have, growing up in our own child welfare system?
Vivaldi was beloved by his students, because he believed in them as musicians. Do you think he was really concerned with them as individuals? Or was he most concerned with wanting to insure that his music was performed well in an age when the only way for a composer's music to be heard was during a live performance? What hints does the novel give that Vivaldi really did care about Anna Maria?
People came to the Ospedale della Pieta from all over Europe to hear the orchestra and choir—and it was a deeply emotional experience for them. Do you think we're luckier now, being able to listen to the music of our choice whenever we want to? Is there anything special about listening to music as part of a group, rather than all by oneself?