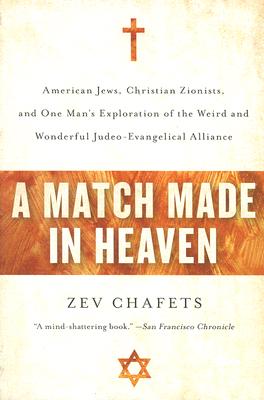 A Match Made in Heaven: American Jews, Christian Zionists, and One Man's Exploration of the Weird and Wonderful Judeo-Evangelical Alliance (Paperback)
American Jews, Christian Zionists, and One Man's Exploration of the Weird and Wonderful Judeo-Evangelical Alliance
Harper Perennial, 9780060890599, 231pp.
Publication Date: February 5, 2008
Description
Over the course of an extraordinary year, Zev Chafets--former New York Daily News columnist and onetime director of the Israeli government press office--traveled the world to explore the improbable confluence of Jews and evangelicals. He spent quality time with Jerry Falwell, visited Jewish cadets at West Point, attended the world's biggest Christian retail show, embarked on a road trip with the rabbi with the largest gentile following since Jesus, journeyed to the Holy Land with a band of repentant Christian pilgrims, and broke bread with George W. Bush and five hundred fellow Jewish Republicans.
A Match Made in Heaven is the penetrating, engaging, and often hilarious narrative of Chafets's determined quest to get to the root of a very serious question: Why do evangelicals support Israel so strongly? Equal parts history, comedy, travelogue, and political tract, it is a smart and adventurous odyssey along a rapidly changing religious and political border.
Advertisement