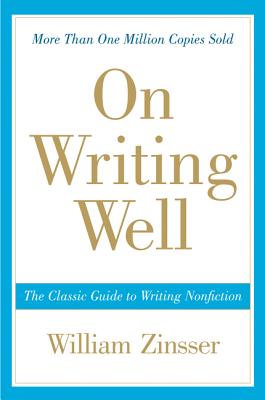 On Writing Well
The Classic Guide to Writing Nonfiction
Paperback

* Individual store prices may vary.
Description
"On Writing Well is a bible for a generation of writers looking for clues to clean, compelling prose." –New York Times
A beloved classic, this definitive volume on the art of writing nonfiction celebrates its thirtieth anniversary.
On Writing Well, which grew out of a course that William Zinsser taught at Yale, has been praised for its sound advice, its clarity, and for the warmth of its style. It is a book for anybody who wants to learn how to write or who needs to do some writing to get through the day, as almost everybody does. Whether you want to write about people or places, science and technology, business, sports, the arts, or about yourself in the increasingly popular memoir genre, On Writing Well offers you both fundamental principles as well as the insights of a distinguished practitioner. With over a million copies in print, this volume has stood the test of time and remains a valued resource for writers and would-be writers.
Praise For On Writing Well: The Classic Guide to Writing Nonfiction…
"On Writing Well belongs on any shelf of serious reference works for writers." — New York Times
"Not since The Elements of Style has there been a guide to writing as well presented and readable as this one. A love and respect for the language is evident on every page." — Library Journal
Harper Perennial, 9780060891541, 336pp.
Publication Date: April 5, 2016
About the Author
William Zinsser is a writer, editor and teacher. He began his career on the New York Herald Tribune and has since written regularly for leading magazines. During the 1970s he was master of Branford College at Yale. His 17 books, ranging from baseball to music to American travel, include the influential Writing to Learn and Writing About Your Life. He teaches at the New School in New York.