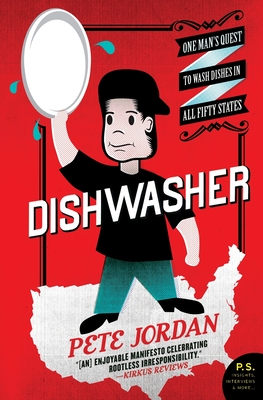 Dishwasher (Paperback)
One Man's Quest to Wash Dishes in All Fifty States
Harper Perennial, 9780060896423, 384pp.
Publication Date: May 1, 2007
* Individual store prices may vary.
Description
Dishwasher is the true story of a man on a mission: to clean dirty dishes professionally in every state in America. Part adventure, part parody, and part miraculous journey of self-discovery, it is the unforgettable account of Pete Jordan's transformation from itinerant seeker into "Dishwasher Pete"—unlikely folk hero, writer, publisher of his own cult zine, and the ultimate professional dish dog—and how he gave it all up for love.
About the Author
Pete Jordan is the author of the memoir Dishwasher: One Man's Quest to Wash Dishes in All Fifty States. Pete's work has been featured on public radio's This American Life and in the New York Times. He lives in Amsterdam.
Praise For Dishwasher: One Man's Quest to Wash Dishes in All Fifty States…
"Dishwasher is an instant American classic. "
— San Francisco Bay Guardian

"…a humorous page-turner…"
— Playboy.com

""Dishwasher" may not raise your opinion of the average dish dog, but it will help you understand why not."
— New York Times Book Review

"...a slacker's idyll."
— New York Times

"[Jordan has]...a knack for storytelling,"
— New York Post

".[An] amusing memoir..."
— People, 3 1/2 out of 4 Stars

"...a fun graduation gift for your favorite smart aleck
— Charlotte Observer

"...a (casual) rallying cry for those disinclined toward the nine-to-five."
— Chicago Reader

"This memoir has it all -- humor, insight, pathos, adventure, travel and piles of dirty dishes."
— Sacramento Bee

"…highly entertaining…"
— The Oregonian (Portland)

"[A] good story, well told...ironic...worth reading."
— San Francisco Chronicle

"...everyone has a story; some people's are just more interesting than others. Such is the case with Pete Jordan."
— Chicagoist

"The writing is lucid and earnest...Jordan's passion for dishwashing and...blowing-in-the-wind traveling is infectious."
— Publishers Weekly

"Warmly recommended..."
— Library Journal

"[An] enjoyable manifesto celebrating rootless irresponsibility, with rueful acknowledgment of the pitfalls therein."
— Kirkus Reviews

"...one of the most entertaining memoirs...in quite a while...The book's exploration of the dishwashing subculture is fascinating…"
— Booklist (starred review)

PRAISE FOR DISHWASHER PETE: "[Dishwasher Pete's] writing and storytelling skills command attention."
— Boston Globe

"Pete is the Lone Ranger of dishwashers, the troubadour of soap and water."
— Christian Science Monitor