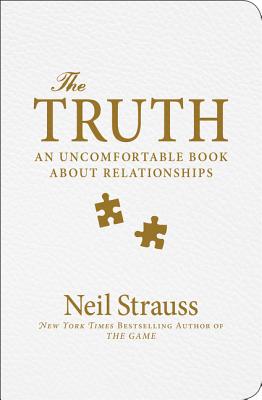 The Truth (Hardcover)
An Uncomfortable Book About Relationships
Dey Street Books, 9780060898762, 448pp.
Publication Date: October 13, 2015
* Individual store prices may vary.
Description
This is not a journey that was undertaken for journalistic purposes. It is a painfully honest account of a life crisis that was forced on me by my own behavior and its consequences.
"As such, it requires sharing a lot of things I'm not proud of—and a few things I feel like I should regret a whole lot more than I actually do. Because, unfortunately, I am not the hero in this tale. I am the villain."
So begins Neil Strauss's long-awaited follow-up to The Game, the funny and slyly instructive work of immersive journalism that jump-started the international "seduction community" and made Strauss a household name—revered or notorious—among single men and women alike.
In The Truth, Strauss takes on his greatest challenge yet: Relationships. And in this wild and highly entertaining ride, he explores the questions that men and women are asking themselves every day:
Is it natural to be faithful to one person for life?
Do alternatives to monogamy lead to better relationships and greater happiness?
What draws us to the partners we choose?
Can we keep passion and romance from fading over time?
His quest for answers takes him from Viagra-laden free-love orgies to sex addiction clinics, from cutting-edge science labs to modern-day harems, and, most terrifying of all, to his own mother.
What he discovered changed everything he knew about love, sex, relationships, and, ultimately, himself.
Searingly honest and compulsively readable, The Truth just may have the same effect on you.
If The Game taught you how to meet members of the opposite sex, The Truth will teach you how to keep them.
About the Author
Neil Strauss is the author of the New York Times bestsellers The Game, Rules of the Game, Emergency, and Everyone Loves You When You're Dead. He is also the co-author of three other New York Times bestsellers - Jenna Jameson's How to Make Love Like a Porn Star, Mötley Crüe's The Dirt and Marilyn Manson's The Long Hard Road out of Hell. A writer for Rolling Stone, Strauss lives in Los Angeles.
Praise For The Truth: An Uncomfortable Book About Relationships…
"One of the 33 books you need to read before the age of 30."
— The Independent

"One of the 9 books that defined 2015."
— Tech Insider

"A brutally honest and emotionally exhaustive account of his search for sexual freedom. . . . Yes, there are orgies and swinger parties, but there are also far more intense discussions about the meaning of intimacy and the underlying causes of sexual behavior."
— Booklist

"[Strauss] charms us with confessions of his screwed-up childhood and the many idiotic beliefs and mistakes that have plagued him, then upsells us on the notion that we can be masters of the universe-and he can teach us how. Color me seduced."
— Laura Miller, Slate

"The guy who wrote The Game and lived The Game searches for love and learns that it's way, way harder. And funnier."
— Joel Stein, Time magazine

"The Truth is fantastic...In the course of exorcising his pickup artist demons, Strauss learns and exposes the barriers to intimacy that so many of us are carrying around. If you've struggled with monogamy, or loved someone who has, this book is revelatory."
— Chicago Tribune

"The epiphanies revealed are simultaneously incredibly obvious and richly profound... I want you to read this book. I want your partners to read this book. More than that, I want you to think critically about what it says about you and the world around you and your romantic relationships."
— Grantland
or
Not Currently Available for Direct Purchase