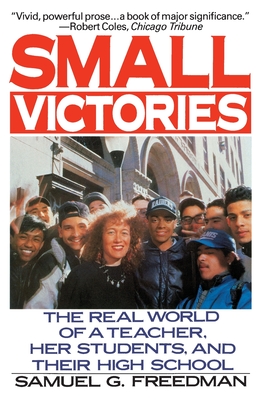 Small Victories (Paperback)
The Real World of a Teacher, Her Students, and Their High School
Harper Perennial, 9780060920876, 448pp.
Publication Date: May 23, 1991
* Individual store prices may vary.
Description
Small Victories is Samuel Freedman's remarkable story of life on the front lines in the sort of high school that seems like a disaster with walls--old, urban, overcrowded, and overwhelmingly minority. Seaward Park High School, on Manhattan's Lower East Side, has been ranked among the worst 10 percent of high schools in the state--yet 92 percent of its graduates go on to higher education. The reason is dedicated teachers, one of whom, English instructor Jessica Siegel, is the subject of Freedman's unforgettably dramatic humanization of the education crisis. Following Siegel through the 1987-88 academic year, Freedman not only saw a master at work but learned from the inside just how a school functions against impossible odds. Small Victories alternates Jessica's experiences with those of others at Seaward Park, and as we cone to know intimately a number of the astonishing students and staff, Small Victories reveals itself as a book that has the power to change the way we see our world.
About the Author
Samuel G. Freedman, who has won numerous awards for investigative reporting and feature writing, is a former reporter for The New York Times. He has written frequently for Rolling Stone and has taught in the Columbia University Graduate Departments of Theater and Journalism. He lives in New York City with his wife, Cynthia.
or
Not Currently Available for Direct Purchase