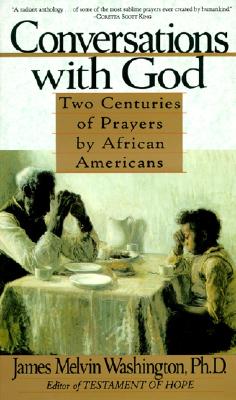 Conversations with God (Paperback)
Two Centuries of Prayers by African Americans
Amistad, 9780060926571, 400pp.
Publication Date: October 19, 1995
* Individual store prices may vary.
Description
A unique and moving collection of prayers by African-Americans spanning two centuries that has sold more than 30,000 copies and been unanimously embraced as "a powerful testament of faith and hope" (Corettta Scott King).
About the Author
James Melvin Washington, Ph.D. was Professor of Church History at Union Theological Seminary and Adjunct Professor of Religion at Columbia University. He is the editor of A Testament of Hope: The Essential Writings of Martin Luther King, Jr. and I Have a Dream: Writings and Speeches That Changed the World, and the author of Frustrated Fellowship: The Black Baptist Quest for Social Power.
Praise For Conversations with God: Two Centuries of Prayers by African Americans…
"James Melvin Washington has compiled a unique history of the African-American Christian experience. . . From Phillis Wheatley to Jesse Jackson, Conversations with God presents a prolific legacy of faith, ranging from personal meditations to resounding communal celebrations."
— Christianity Today

"Washington's eloquent statements explaining why we should revere these prayers as living testaments of not only our faith, but also our courage and strength, are powerful and spiritually uplifting. Conversations with God is a very special book that will warm your soul and awaken your spirit."
— Quarterly Black Review

"This anthology of amazingly graceful passages will serve as a testament of hope for those who have carried everything to God in prayer."
— American Visions

"This is the definitive collection of powerful and poignant prayers of a determined yet degraded people. Only James Washington, with his indefatigable research and theological vision, could have made this available to us."
— Cornel West, Harvard University

"Washington takes a giant step in helping to preserve the rich tradition of spirituality in African-American culture—and by extension all American culture—and celebrates the legacy of prayer that has supported and strengthened generations of blacks through good times and bad."
— Carolina Times

"Prayer, as James Washington's moving book chronicles, was the fuel that enabled our black foremothers and forefathers to get over the mountains of slavery and through the valleys of segregation. This testament to the spirit of African Americans. . . Will revive your spirit as it did mine."
— Marian Wright Edelman, #1 New York Times bestselling author of The Measure of Our Success and President of the Children's Defense Fund

"These prayers speak not only to African Americans, but to the hearts and souls of people everywhere. . . A powerful testament of faith and hope that will provide a rich, enduring source of inspiration for its fortunate readers."
— Coretta Scott King

"It has been years since I have seen a book which will prove such a treasure. . . Here is not a quaint collection of dusty ethnic curiosities, but a living thing with a past and a future."
— Trenton NJ Times
or
Not Currently Available for Direct Purchase