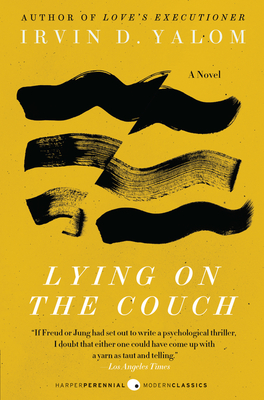 Lying on the Couch
A Novel
Paperback

* Individual store prices may vary.
Other Editions of This Title:
Digital Audiobook (11/30/2015)
Description
From the bestselling author of Love's Executioner and When Nietzsche Wept comes a provocative exploration of the unusual relationships three therapists form with their patients.
Seymour is a therapist of the old school who blurs the boundary of sexual propriety with one of his clients. Marshal, who is haunted by his own obsessive-compulsive behaviors, is troubled by the role money plays in his dealings with his patients. Finally, there is Ernest Lash. Driven by his sincere desire to help and his faith in psychoanalysis, he invents a radically new approach to therapy -- a totally open and honest relationship with a patient that threatens to have devastating results.
Exposing the many lies that are told on and off the psychoanalyst's couch, Lying on the Couch gives readers a tantalizing, almost illicit, glimpse at what their therapists might really be thinking during their sessions. Fascinating, engrossing and relentlessly intelligent, it ultimately moves readers with a denouement of surprising humanity and redemptive faith.
Praise For Lying on the Couch: A Novel…
"If Freud or Jung had set out to write a psychological thriller, I doubt that either one could have come up with a yarn as taut and telling."
— Los Angeles Times

"Lying on the Couch is a witty, gripping and hugely entertaining novel from which the reader effortlessly learns a great deal about the theory and practice of psychotherapy."
— David Lodge, author of Therapy and The Art of Fiction

"A dazzling psychiatric whodunit ...Yalom brings to his latest work of fiction an authentic mastery of the techniques of psychotherapy and a real genius for showing the reader what is really going on inside the head of a psychiatrist while he or she is shrinking someone."
— Los Angeles Times

"[A] hilariously intricate tale ...This may be the funniest and most sensitive novel ever written about psychoanalysis."
— San Jose Mercury News

"[Yalom's] insight into his own profession is sharp and merciless, recalling both Oliver Sacks and Studs Terkel. This is a novel for anyone who wants to know how the mind of a psychotherapist really works."
— San Francisco Chronicle
Harper Perennial Modern Classics, 9780060928513, 384pp.
Publication Date: November 10, 2020
About the Author
Irvin D. Yalom, M.D., is the author of The Schopenhauer Cure, Lying on the Couch, Every Day Gets a Little Closer, and Love's Executioner, as well as several classic textbooks on psychotherapy. When Nietzsche Wept was a bestseller in Germany, Israel, Greece, Turkey, Argentina, and Brazil with millions of copies sold worldwide. Yalom is Professor Emeritus of Psychiatry at Stanford University, and he divides his practice between Palo Alto, where he lives, and San Francisco, California.