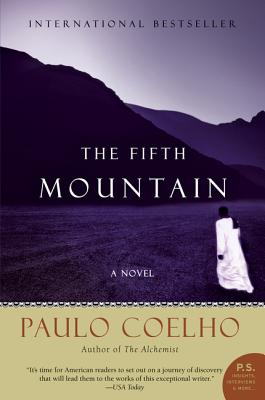 The Fifth Mountain (Paperback)
HarperOne, 9780060930134, 256pp.
Publication Date: April 26, 2000
Other Editions of This Title:
Paperback (2/10/2009)
Hardcover (2/17/1998)
* Individual store prices may vary.
Description
A Struggle of the Spirit and a Search for the Truth
Written with the same masterful prose and clarity of vision that made The Alchemist an international phenomenon, The Fifth Mountain is Paulo Coelho's inspiring story of the Biblical prophet Elijah. In the ninth century B.C., the Phoenician princess Jezebel orders the execution of all the prophets who refuse to seek safety in the land of Zarephath, where the unexpectedly finds true love with a young widow. But this newfound rapture is to be cut short, and Elijah sees all of his hopes and dreams irrevocably erased as he is swept into a whirlwind of events that threatens his very existence. In what is truly a literary milestone, Coelho gives a quietly moving account of a man touched by the hand of God who must triumph over his frustrations in a soul-shattering trail of faith.
About the Author
Paulo Coelho, born in Rio de Janeiro in 1947, is one of the bestselling and most influential authors in the world. The Alchemist, The Pilgrimage, The Valkyries, Brida, Veronika Decides to Die, Eleven Minutes, The Zahir, The Witch of Portobello, The Winner Stands Alone, Aleph, Manuscript Found in Accra, and Adultery, among others, have sold over 175 million copies worldwide, and The Alchemist has been on the New York Times bestseller list for over 360 weeks.
Paulo Coelho has been a member of the Brazilian Academy of Letters since 2002, and in 2007, he was appointed United Nations Messenger of Peace. He is also the most followed author on social media.
or
Not Currently Available for Direct Purchase