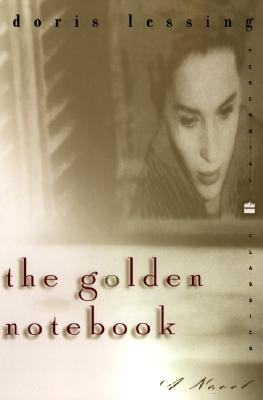 The Golden Notebook (Paperback)
Perennial Classics edition
Harper Perennial Modern Classics, 9780060931407, 672pp.
Publication Date: February 3, 1999
Other Editions of This Title:
Paperback (10/14/2008)
Mass Market Paperback (11/1/1981)
Paperback, Spanish (10/30/2007)
MP3 CD (6/21/2016)
Compact Disc (6/1/2010)
* Individual store prices may vary.
Description
Anna is a writer, author of one very successful novel, who now keeps four notebooks. In one, with a black cover, she reviews the African experience of her earlier year. In a red one she records her political life, her disillusionment with communism. In a yellow one she writes a novel in which the heroine reviles part of her own experience. And in the blue one she keeps a personal diary. Finally, in love with an American writer and threatened with insanity, Anna tries to bring the threads of all four books together in a golden notebook.
About the Author
Winner of the 2007 Nobel Prize in Literature, Doris Lessing was one of the most celebrated and distinguished writers of our time, the recipient of a host of international awards. She wrote more than thirty books—among them the novels Martha Quest, The Golden Notebook, and The Fifth Child. She died in 2013.
Praise For The Golden Notebook: Perennial Classics edition…
"Lessing writes about her own sex with the unrelenting intensity of Simone de Beauvoir, and about sex itself with the frankness and detail of John O"
— Washington Post

"England's brilliant Doris Lessing looks deeply into the problem of a sensitive and disillusioned modern woman...It is a rewarding book, and an unusually perceptive one."
— Milwaukee Journal

"No ordinary work of fiction...the technique, in a word, is brilliant, and places Doris Lessing in the forefront of British novelists."
— Saturday Review

"The Golden Notebook is Doris Lessing's most important work and has left its mark upon the ideas and feelings of a whole generation of women."
— Elizabeth Hardwick, New York Times Book Review
Lessing has written that the central theme of The Golden Notebook is of "'breakdown, that sometimes when people 'crack up' it is a way of self-healing." In what ways does this theme find expression in the novel? How does Anna Wulf try to deal with her inner self-divisions? What part is played by each of Anna's four notebooks in her struggle to integrate her fragmented inner world and personality? What enables the notebooks to come together in the golden notebook at the end of the novel? How do her relationships to others, especially to Saul Green, contribute to her "crack-up" and "self-healing"?
By embedding Anna Wulf's psyche in the social and political movements of her time, Lessing suggests that the individual is inevitably shaped by history. In what ways is Anna Wulf a creation of the culture in which she lives—personally, politically? Why does she become disillusioned with communism and revolutionary psychoanalysis? How is her life entangled with culturally endorsed ideas about romantic love? sex? family? friendship? normalcy?
Many women consider The Golden Notebook to be the founding novel of the women's movement. Yet the ironically titled novel-within-the novel, Free Women, seems to raise questions of "freedom." What do you feel the novel is saying about women's lives and desires? How do individual characters—Anna, Molly, Marion—reflect various kinds of women's struggles? Does the novel offer any vision of freedom for women, and if so, what is it?
Why is Anna blocked as a writer? What are the inner and outer pressures that seem to inhibit her as an artist? How do her discussions with Mother Sugar and Saul Green illuminate her problem? How do her shifting feelings about the power of "naming" to alleviate psychic pain relate to her writing?
Do you think that the novel takes an unrelentingly bleak view of relations between the sexes? Or is there the suggestion of an alternative to the cruelty, betrayal, and emotional numbness that seem to characterize sexual relations in the novel? Do Anna's relationships with men change over the course of the novel (consider Willi, Michael, Saul, Milt)? Why does Molly decide to marry at the end? What do you think is suggested by the novel about Anna's future?
Anna, like her friend Molly, is a divorced mother, rasing a child on her own while struggling with other aspects of her life—professional, political, sexual. How would you describe Anna's relationship with her daughter, Janet? How does she feel about herself as a mother? What is your reaction to Richard, and his criticism that Anna and Molly are "bad" mothers—responsible, for one thing, for Tommy's attempted suicide? What does the character of Marion contribute to the novel's commentary on motherhood?
How does the form of the novel—the frame, the conventional short novel, Free Women , broken up by stages of Anna's four notebooks of different colors (black, red, yellow, and blue), and eventually unified in the golden notebook—relate to some of the larger themes of the novel? What does the form suggest about an individual's layers of consciousness? What is the significance and effect of filtering the world through a woman's point of view?
Coverage from NPR