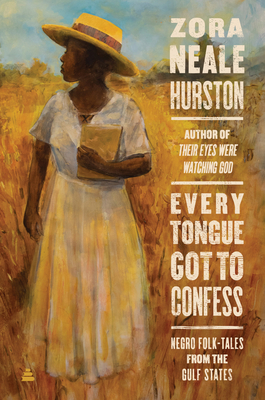 Every Tongue Got to Confess (Paperback)
Negro Folk-tales from the Gulf States
Amistad, 9780060934545, 320pp.
Publication Date: October 1, 2002
Other Editions of This Title:
Digital Audiobook (10/30/2005)
Hardcover (11/27/2001)
Audio cassette (11/27/2001)
* Individual store prices may vary.
Description
Every Tongue Got to Confess
is an extensive volume of African American folklore that Zora Neale Hurston collected on her travels through the Gulf States in the late 1920s.
The bittersweet and often hilarious tales -- which range from longer narratives about God, the Devil, white folk, and mistaken identity to witty one-liners -- reveal attitudes about faith, love, family, slavery, race, and community. Together, this collection of nearly 500 folktales weaves a vibrant tapestry that celebrates African American life in the rural South and represents a major part of Zora Neale Hurston's literary legacy.
About the Author
Zora Neale Hurston was a novelist, folklorist, and anthropologist. An author of four novels (Jonah's Gourd Vine, 1934; Their Eyes Were Watching God, 1937; Moses, Man of the Mountain, 1939; and Seraph on the Suwanee, 1948); two books of folklore (Mules and Men, 1935, and Tell My Horse, 1938); an autobiography (Dust Tracks on a Road, 1942); and over fifty short stories, essays, and plays. She attended Howard University, Barnard College and Columbia University, and was a graduate of Barnard College in 1927. She was born on January 7, 1891, in Notasulga, Alabama, and grew up in Eatonville, Florida. She died in Fort Pierce, in 1960.  In 1973, Alice Walker had a headstone placed at her gravesite with this epitaph: "Zora Neale Hurston: A Genius of the South."