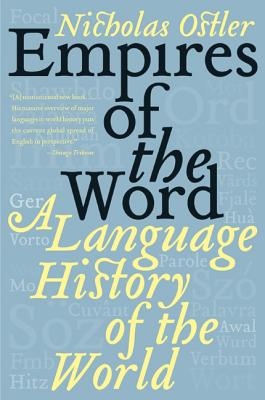 Empires of the Word (Paperback)
A Language History of the World
Harper Perennial, 9780060935726, 640pp.
Publication Date: June 27, 2006
Other Editions of This Title:
Hardcover (6/28/2005)
Paperback (9/18/2006)
* Individual store prices may vary.
Description
Nicholas Ostler's Empires of the Word is the first history of the world's great tongues, gloriously celebrating the wonder of words that binds communities together and makes possible both the living of a common history and the telling of it. From the uncanny resilience of Chinese through twenty centuries of invasions to the engaging self-regard of Greek and to the struggles that gave birth to the languages of modern Europe, these epic achievements and more are brilliantly explored, as are the fascinating failures of once "universal" languages. A splendid, authoritative, and remarkable work, it demonstrates how the language history of the world eloquently reveals the real character of our planet's diverse peoples and prepares us for a linguistic future full of surprises.
About the Author
A scholar with a working knowledge of twenty-six languages, Nicholas Ostler has degrees from Oxford University in Greek, Latin, philosophy, and economics, and a Ph.D. in linguistics from MIT, where he studied under Noam Chomsky. He lives in Bath, England.
Praise For Empires of the Word: A Language History of the World…
"[A] wide-ranging history of the world's languages... [Ostler] brilliantly raises questions and supplies answers or theories."
— Washington Post

"Enlightening . . . Always challenging, always instructive--at times, even startling or revolutionary."
— Kirkus Reviews

"Delicious! Ostler's book shows how certain lucky languages joined humankind in its spread across the world."
— John McWhorter

"What an extraordinary odyssey the author of this superb work embarked upon."
— Literary Review

"Covers more rambunctious territory than any other single volume I'm aware of...A wonderful ear for the project's poetry."
— John Leonard, Harper's Magazine

"Revolutionary... Executed with a giddying depth of scholarship, yet the detail is never too thick to swamp the general reader."
— Boston magazine

"True scholarship. A marvelous book, learned and instructive."
— National Review

"[A] monumental new book... Ostler furnishes many fresh insights, useful historical anecdotes and charming linguistic oddities."
— Chicago Tribune

"A work of immense erudition."
— Christian Science Monitor

"A story of dramatic reversals and puzzling paradoxes. A rich... text with many piercing observations and startling comparisons."
— Los Angeles Times Book Review