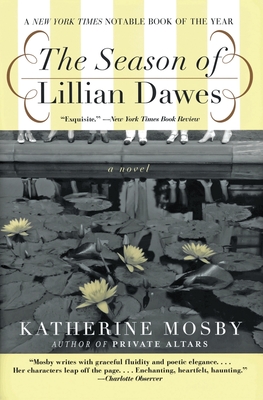 The Season of Lillian Dawes (Paperback)
Harper Perennial, 9780060936952, 288pp.
Publication Date: April 1, 2003
Description
From the acclaimed writer of Private Altars, comes a story of driving lyrical force set in Manhattan in the 1950s. When he is expelled from boarding school, Gabriel Gibbs is sent to live with his older brother Spencer in New York. Rather than a punishment, this becomes an exhilarating invitation to a dazzling world, from smoking cigars at the Plaza Hotel to weekend house parties filled with tennis and cocktails. It is in this heady atmosphere -- from white-gloved Park Avenue to literary Greenwich Village -- that Gabriel first glimpses the elusive Lillian Dawes. Free-spirited and mysterious, Lillian captures the imaginations of those in "all the best circles," including both brothers. As their lives entwine, so begins the powerful and poignant unraveling of innocence.
Praise For The Season of Lillian Dawes…
"Mosby has an impeccable way with narration and dialogue".
-USA Today

"Intensely romantic…sings with a music seldom found in contemporary writing."
-Richmond Times-Dispatch

"A pleasure to read."
-Orlando Sentinel

"…a wistful fairy-tale."
-Seattle Times

"…effortless and seductive…"
-Baltimore Sun

"Mosby's rich, elegant writing makes this novel memorable."
-Booklist

"Mosby's elegant, poetic prose is as smooth and shimmering as velvet."
-Publishers Weekly

"A charming novel with needle–sharp wit and the lingering aroma of youthful infatuation."
-Sena Jeter Naslund, author of Ahab's Wife

"Mosby writes with fluid grace…her images are magical."
-People on PRIVATE ALTARS

"Tremendously ambitious…and impressive."
-The New Yorker on PRIVATE ALTARS

"Rich and accomplished."
-Time Magazine on PRIVATE ALTARS

"Mosby has a true storyteller's voice."
-Boston Globe on PRIVATE ALTARS

"…An unusual, extraordinary work that there is really nothing to compare it to in contemporary fiction."
-Madison Smartt Bell

"A fairy tale of enormous charm."
-Annabel Davis–Goff, author of This Cold Country

"Mosby shows an extraordinary gift. A."
-Entertainment Weekly

"Mosby writes like no one working today."
-New York Newsday

"Enchanting, heartfelt, haunting."
-The Charlotte Observer
Advertisement