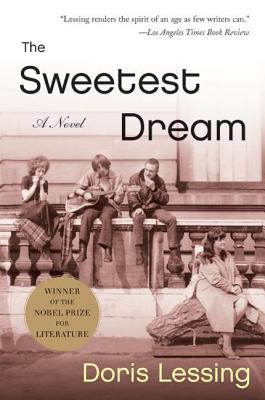 The Sweetest Dream
A Novel
Paperback

* Individual store prices may vary.
Description
"[Lessing] is a pro, writing at the top of her powers, realistically, passionately, accessibly…. a stirring novel"—San Francisco Chronicle
Frances Lennox stands at her stove, bringing another feast to readiness before ladling it out to the youthful crew assembled around her hospitable table—her two sons and their friends, girlfriends, ex-friends and new friends fresh off the street. It's London in the 1960s and everything is being challenged and changed.
But what is being tolerated? Comrade Johnny delivers political tirades, then laps up the adolescent adulation before disappearing into the night to evade the clutches of his responsibilities. Johnny's mother funds all but finds she can embrace only one lost little girl—Sylvia, who leaves for a South African village dying of AIDS.
These are the people dreaming the Sixties into being and who, on the morning after, woke to find they were the ones taxed with cleaning up and making good.
Praise For The Sweetest Dream: A Novel…
"[Lessing] is a pro, writing at the top of powers, realistically, passionately, accessibly…. a stirring novel." — San Francisco Chronicle
"Lessing's sage, level gaze is everywhere bought to bear … [THE SWEETEST DREAM] is solidly wrought, deeply felt." — Publishers Weekly (starred review)
"Irresistibly alluring … [THE SWEETEST DREAM is] one of Lessing's most generous works." — Book Magazine
"Lessing renders the spirit of an age as few writers can." — Los Angeles Times Book Review
"Wonderfully ripe characters … grand-scale writing." — Entertainment Weekly
"[Lessing's] acute political and artistic awareness makes her vision of our time rich and almost always freshly perceptive." — The Times-Picayune (New Orleans)
"A kind of a truth emerges … as Lessing effortlessly captures what is a quintessential in each of her charming characters." — The Guardian [London]
"One of out greatest novelists." — Salon.com
"Lessing's most engrossing novel in many years." — London Times Literary Supplement
"This book brings with it a rare literary pleasure - the kind you might have in suddenly coming upon a long lost novel by George Elliot or Balzac …The haunting brilliance of her characters whom one feels one knows better than one's friends, the passion of her ideas and vision remain unblemished." — The Independent (London)
"Anyone who regards THE GOLDEN NOTEBOOK as one of the key books of the mid-20th century will find this disconcerting novel worth attention." — The Sunday Telegraph (London)
"A great story with a Dickensian cast of memorable characters." — Evening Standard
"[THE SWEETEST DREAM] is a beautifully made book." — Financial Times [London]
"In its critique of mass-produced thinking and the long-term personal cost of war, THE SWEETEST DREAM approaches a universal truth: both damage people's capacity to give and receive love." — The Observer (London)
Harper Perennial, 9780060937553, 496pp.
Publication Date: December 24, 2002
About the Author
Winner of the 2007 Nobel Prize in Literature, Doris Lessing was one of the most celebrated and distinguished writers of our time, the recipient of a host of international awards. She wrote more than thirty books—among them the novels Martha Quest, The Golden Notebook, and The Fifth Child. She died in 2013.
or
Not Currently Available for Direct Purchase