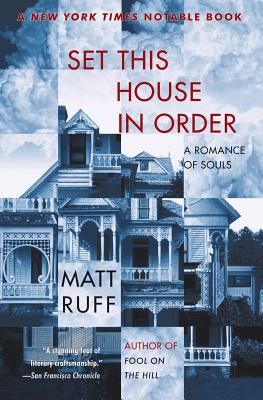 Set This House in Order
A Romance of Souls
Paperback

* Individual store prices may vary.
Description
Andy Gage was born in 1965 and murdered not long after by his stepfather. . . . It was no ordinary murder. Though the torture and abuse that killed him were real, Andy Gage's death wasn't. Only his soul actually died, and when it died, it broke in pieces. Then the pieces became souls in their own right, coinheritors of Andy Gage's life. . . .
While Andy deals with the outside world, more than a hundred other souls share an imaginary house inside Andy's head, struggling to maintain an orderly coexistence: Aaron, the father figure; Adam, the mischievous teenager; Jake, the frightened little boy; Aunt Sam, the artist; Seferis, the defender; and Gideon, who wants to get rid of Andy and the others and run things on his own.
Andy's new coworker, Penny Driver, is also a multiple personality, a fact that Penny is only partially aware of. When several of Penny's other souls ask Andy for help, Andy reluctantly agrees, setting in motion a chain of events that threatens to destroy the stability of the house. Now Andy and Penny must work together to uncover a terrible secret that Andy has been keeping . . . from himself.
Praise For Set This House in Order: A Romance of Souls…
"An odyssey of transformation and trust." — New York Times Book Review
"His matter-of-fact depiction of the relationships between different personalities is remarkable for its imaginative details." — Publishers Weekly (starred review)
"Set This House in Order brings extraordinary warmth to the chilliest of childhoods." — O magazine
"Set This House in Order is one of those rare opportunities to marvel at good writing, as the characters of Andy and Penny become substitutes for a modern day Adam and Eve in today's rapid and transparent world. A powerful and moving display of talent and charisma." — IndyWire
Harper Perennial, 9780060954857, 496pp.
Publication Date: January 20, 2004
About the Author
Matt Ruff is the author of the novels Lovecraft Country; The Mirage; Bad Monkeys; Set This House in Order; Fool on the Hill; and Sewer, Gas & Electric: The Public Works Trilogy. He lives in Seattle, Washington.