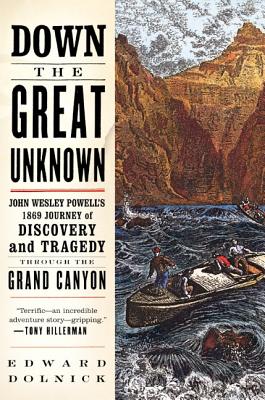 Down the Great Unknown: John Wesley Powell's 1869 Journey of Discovery and Tragedy Through the Grand Canyon (Paperback)
John Wesley Powell's 1869 Journey of Discovery and Tragedy Through the Grand Canyon
Harper Perennial, 9780060955861, 400pp.
Publication Date: September 17, 2002
Description
0n May 24, 1869, a one-armed Civil War veteran named John Wesley Powell and a ragtag band of nine mountain men embarked on the last great quest in the American West. No one had ever explored the fabled Grand Canyon; to adventurers of that era it was a region almost as mysterious as Atlantis -- and as perilous.
The ten men set out down the mighty Colorado River in wooden rowboats. Six survived. Drawing on rarely examined diaries and journals, Down the Great Unknown is the first book to tell the full, true story.
Praise For Down the Great Unknown: John Wesley Powell's 1869 Journey of Discovery and Tragedy Through the Grand Canyon…
"Written with authority and zeal, this rich narrative is popular history at its best."
-Kirkus Reviews (starred review)

"Edward Dolnick's Down the Great Unknown is both good history and a successful adventure yarn."
-Harper's Magazine
Advertisement