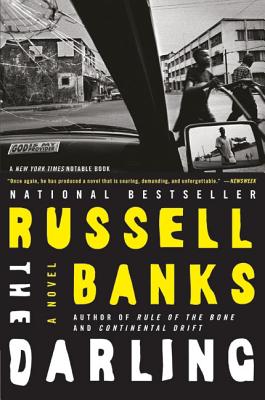 The Darling (Paperback)
Harper Perennial, 9780060957353, 391pp.
Publication Date: October 11, 2005
Description
Set in Liberia and the United States from 1975 through 1991, The Darling is the story of Hannah Musgrave, a political radical and member of the Weather Underground.
Hannah flees America for West Africa, where she and her Liberian husband become friends of the notorious warlord and ex-president, Charles Taylor. Hannah's encounter with Taylor ultimately triggers a series of events whose momentum catches Hannah's family in its grip and forces her to make a heartrending choice.
Praise For The Darling…
"Banks's novel is a vivid account of a time of terror, exposing the secrets of the soul."
-O magazine

"Powerful and evocative..."
-Newsweek

"Banks creates a heroine every bit as complex and flawed as someone out of Jane Austen."
-Hartford Courant

"A powerful new novel."
-St. Louis Post-Dispatch

"Hannah's story shows why Banks ranks among our boldest artists."
-Boston Globe

"Banks has created a heroine every bit as complex and flawed as something out of Jane Austen."
-St. Petersburg Times

"Reverberating with ideas and startling prose."
-Village Voice

"In The Darling, he is working at full strength, and his readers are in his debt."
-Washington Post Book World

"Once again, he has produced a novel that is searing, demanding and unforgettable."
-Newsweek

"Banks has written a novel that is utterly accessible, forcefully wrought and undeniably passionate."
-Associated Press

"Banks' mastery of his material makes this a compelling and important book."
-Orlando Sentinel

"Extraordinary...Banks is the rare epic novelist."
-Virginian Pilot
Advertisement