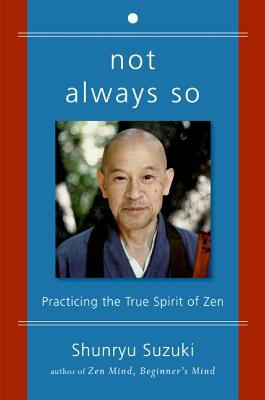 Not Always So
Practicing the True Spirit of Zen
Paperback

* Individual store prices may vary.
Description
Practising the true spirit of Zen.
Not Always So is based on Shunryu Suzuki's lectures and is framed in his own inimitable, allusive, paradoxical style, rich with unexpected and off–centre insights. Suzuki knew he was dying at the time of the lectures, which gives his thoughts an urgency and focus even sharper than in the earlier book.
In Not Always So Suzuki once again voices Zen in everyday language with the vigour, sensitivity, and buoyancy of a true friend. Here is support and nourishment. Here is a mother and father lending a hand, but letting you find your own way. Here is guidance which empowers your freedom (or way–seeking mind), rather than pinning you down to directions and techniques. Here is teaching which encourages you to touch and know your true heart and to express yourself fully, teaching which is not teaching from outside, but a voice arising in your own being.
Praise For Not Always So: Practicing the True Spirit of Zen…
"Indeed something very special . . . [Brown] has edited transcriptions of Suzuki's talks that both read well on the page and capture the style, humor and solid grasp evident in [Zen Mind, Beginner's Mind]. This will prove highly valuable to anyone, rank novice or Zen master." — Publishers Weekly (starred review)
HarperOne, 9780060957544, 176pp.
Publication Date: June 2, 2009
About the Author
The Zen master Shunryu Suzuki was an unassuming, much-beloved spiritual teacher. Born the son of a Zen master in 1904, Suzuki began Zen training as a youngster and matured over many years of practice in Japan. After continuing to devote himself to his priestly life throughout the Second World War (when priests often turned to other occupations), Suzuki came to San Francisco in 1959. While some priests had come to the West with "new suits and shiny shoes," Suzuki decided to come "in an old robe with a shiny [shaved] head." Attracting students over several years, Suzuki established the Zen Center in San Francisco, with a training temple at Tassajara-the first in the West. After a lengthy illness, he died of cancer in December 1971.
Edward Espe Brown was ordained as a Zen priest in 1971 by Shunryu Suzuki, who gave him the name Jusan Kainei, "Longevity Mountain, Peaceful Sea." While a student at the Tassajara Zen Mountain Center, he wrote two bestselling books, The Tassajara Bread Book and Tassajara Cooking. His most recent book is Tomato Blessings and Radish Teachings.