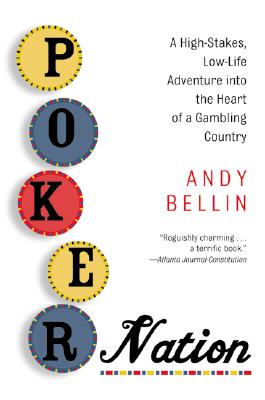 Poker Nation: A High-Stakes, Low-Life Adventure Into the Heart of a Gambling Country (Paperback)
A High-Stakes, Low-Life Adventure Into the Heart of a Gambling Country
Harper Perennial, 9780060958473, 288pp.
Publication Date: February 4, 2003
Description
Journalist and poker fanatic Andy Bellin takes readers on a raucous journey into the shut-up-and-deal world of professional poker. From basement games to the World Series of Poker in Las Vegas, you'll look over his shoulder as he learns to count cards, read a legendary player's body language, hang in there when the chips are down, and take his beatings like a man. Even if you don't know the difference between a flop and a river card, Bellin keeps you in the game with his portraits of the colorful players, dreamers, hustlers, and eccentrics who populate this strange subculture. Along with learning what goes on behind the scenes in illegal poker clubs, you'll get great advice on how to play Texas Hold'em, today's game of choice for big-money players.
Praise For Poker Nation: A High-Stakes, Low-Life Adventure Into the Heart of a Gambling Country…
"Poker Nation is an invitation to the lower depths, with a high-spirited, genial screw-off for our Virgil."
-The New Yorker

"Bellin's love for the game is contagious, and POKER NATION is a sure winner."
-Time Out New York

"…Amusing and instructive."
-Washington Post

"Quite simply, a royal flush of a book!"
-George Plimpton

"Andy Bellin has written a good—oh hell make that great—book. Bellin entertains, educates, and illuminates."
-Peter Alson, author of Confessions of an Ivy League Bookie

" Cash in your chips and go home with a good book about poker—like this one."
-Kirkus Reviews

"…Engagingly written…"
-Booklist

"…Smart, insightful. It's one of the few entertaining poker books around."
-John L. Smith, Las Vegas Boulevard

"Bellin's prose shimmers." B+
-Entertainment Weekly

"…Breezy, informative…[Bellin] knows his way around the poker table and he tells a good story."
-Philadelphia Inquirer

"Colorful and insightful."
-Kansas City Star
Advertisement