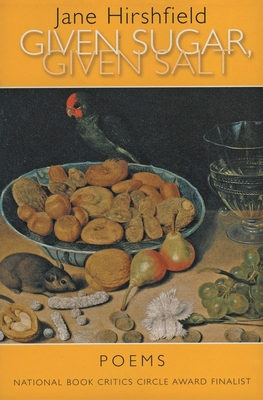 Given Sugar, Given Salt
Poems
Paperback

* Individual store prices may vary.
Description
"Hirshfield's are the kind of poems that could—before you even realize it—have quietly changed your life."—O Magazine
In this luminous and authoritative collection, Jane Hirshfield presents an ever-deepening and altering comprehension of human existence in poems utterly unique, as William Matthews once wrote of her work, in their "praise of ceaseless mutability as life's central splendor."
Hirshfield explores questions of identity, aging, death, and of time and the variegated gifts brought by its relentless passage. Whether meditating upon a button, the role of habit in our lives, or the elusive nature of our relationship to sleep, Hirshfield brings each subject into a surprising and magnified existence.
Praise For Given Sugar, Given Salt: Poems…
"Jane Hirshfield's poems move like light beams -- searching, discovering, pausing to make sure. They have some of the calligraphic plainness of classical Chinese painting: a few strokes and a new landscape appears, with a life in it not seen before but at once recognized. These are poems of space, air, and a remarkable precision of observation and revealed feeling." — W. S. Merwin
"Jane Hirshfield's poems have such a wonderfully obsessive personal grammar and such delicate reversals that all objects and elements—like a house and its neighboring redwood tree—merge." — Michael Ondaatje
"Hirshfield's are the kind of poems that could—before you even realize it—have quietly changed your life." — O Magazine
"These are assured, controlled poems that tread carefully where others have trampled." — Library Journal
"These poems are highly accessible....[their sense] seeps into one's consciousness, like the aftertaste of some delectable morsel." — Kirkus Reviews
"I enjoyed this new collection very much. Hirshfield's poems are fresh bright, very precise clear. She is a refreshing poet." — Sue Domis, Sunshine & Wisteria
Harper Perennial, 9780060959012, 96pp.
Publication Date: April 2, 2002
About the Author
The author of five previous poetry collections and a book of essays, Jane Hirshfield has been a finalist for both the National Book Critics Circle Award and England's T. S. Eliot Prize for Poetry, and she is the winner of the Poetry Center Book Award, the California Book Award, and fellowships from the Academy of American Poets, the National Endowment for the Arts, and the Guggenheim and Rockefeller foundations. Her work has appeared in The New Yorker, Atlantic Monthly, The Nation, the Los Angeles Times, and multiple volumes of The Best American Poetry and Pushcart Prize anthologies.