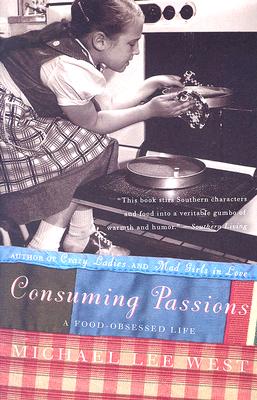 Consuming Passions
A Food-Obsessed Life
Paperback

* Individual store prices may vary.
Description
Consuming Passions is Michael Lee West's delightfully quirky memoir of an adventurous life centered around food and family—the story of how she went from non-cook to gourmet of words and victuals by watching a multitude of relatives squabble, prepare sumptuous repasts, and carry on honored traditions. Laced with delicious secret recipes passed from generation to generation, West's irresistible chronicle recalls good times and wild times—mothers swinging from chandeliers, elderly aunts brewing up love potions, a South American nymphomaniac stirring up trouble at a Louisiana barbeque joint, and the spooky hauntings of a cabbage-eating ghost—all in the pursuit of good dining. Thoroughly entertaining, alive with West's distinctive humor and sharp, irrepressible insight, here are incomparable American kitchen tales as warm and tasty as freshly baked bread.
William Morrow Paperbacks, 9780060984427, 288pp.
Publication Date: September 5, 2006
About the Author
Michael Lee West is the author of Mad Girls in Love, Crazy Ladies, American Pie, She Flew the Coop, and Consuming Passions. She lives with her husband on a rural farm in Tennessee with three bratty Yorkshire terriers, a Chinese Crested, assorted donkeys, chickens, sheep, and African Pygmy goats. Her faithful dog Zap (above) was the inspiration for a character in the novel.