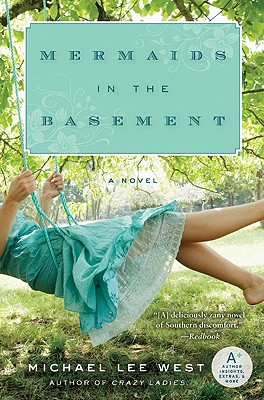 Mermaids in the Basement
Paperback

* Individual store prices may vary.
Other Editions of This Title:
Hardcover (1/1/2008)
Hardcover, Large Print (6/1/2009)
Description
Reeling from the loss of her mother, plagued with a bad case of writer's block (and don't even talk about those extra twenty pounds), Renata DeChavannes feels as though everything is just plain wrong. And that was before the tabloids caught her sweetheart, filmmaker Ferg Lauderdale, sharing an intimate squeeze with Hollywood's hottest young tamale.
But the granddaughter of the formidable Honora DeChavannes possesses more hell than belle in her backbone—and she's about to reclaim it. Heading south to Honora's home on the Gulf Coast, Renata is determined to stop feeling like a wilted gardenia and emerge as the unstoppable kudzu her beloved grandmother proudly proclaimed she would be. But for that to happen Renata's got to face some not-so-genteel ghosts from her past, discover the truth about the mother she desperately misses, and make peace with the first man who abandoned her and broke her heart: her handsome and distant father.
Praise For Mermaids in the Basement…
"Deliciously zany novel of Southern discomfort.
— Redbook Magazine

West has a knack for realistic and engaging characters. This charming tale will keep readers wanting to know more about the inhabitants of Point Clear.
— Library Journal (starred review)

Southern belles hell-bent on belated truth-telling in West's latest wacky outing... . the belles's barbed commentary never fails to entertain
— Kirkus Reviews

"An engaging tale that skips from glitzy romantic Hollywood to Deep South without missing a beat."
— Booklist
William Morrow Paperbacks, 9780060985073, 320pp.
Publication Date: January 6, 2009
About the Author
Michael Lee West is the author of Mad Girls in Love, Crazy Ladies, American Pie, She Flew the Coop, and Consuming Passions. She lives with her husband on a rural farm in Tennessee with three bratty Yorkshire terriers, a Chinese Crested, assorted donkeys, chickens, sheep, and African Pygmy goats. Her faithful dog Zap (above) was the inspiration for a character in the novel.
Mermaids in the Basement is story about fathers and daughters. Renata DeChavannes returns to her family's home in Alabama to discover the truth about her parents' failed marriage and to reconnect with her estranged father, Louie. How did Renata and Louie drift apart? Do they reach an understanding? How does divorce impact their relationship? Why was Renata shielded from the truth? Discuss the father/daughter relationship and how it differs from mothers and daughters.
The novel opens and closes with faux tabloid articles; the chapters are short and each one has a "title." Discuss the use of tabloids as a metaphor. Can ordinary lives be more outrageous than stories in the Star and Globe?
Honora and Gladys present Renata with a trunk that's filled with artifacts—puzzle pieces to her parents' tumultuous marriage and divorce, and also clues to secrets from Renata's childhood. Discuss and how each artifact (newspaper clipping, obituary, jewelry, etc) solves a bit of the mystery.
After Renata returns to Alabama, she tries to reconnect with her father, but before she can make headway, she is accused of attacking his fiancé, Joie, sending the woman into a coma. Discuss how Louie and Renata became estranged. How does divorce affect the parent /child relationship?
Why did Renata's mom, Shelby, conceal the truth? Who was she really protecting? What happened in her past to make her want her daughter to have a "normal" childhood? Did Shelby succeed? Should parents shield their children from painful truths?
The novel's title was inspired by an Emily Dickinson poem. The title serves as a metaphor for Renata's depression and for the hidden past, bringing the truth out of the darkness, into the light. How many secrets were hidden? Which one had the most impact?
Central to the novel are the relationships between the women—Renata, Honora, Gladys, and Isabella. How are the women alike and different? How do their actions define character? For example, Honora has a large collection of designer handbags that she regularly "sets free" in public places; and the flamboyant Isabella has a penchant for lacing the food with laxatives and tranquilizers. These women are capable of forgiving each other—but not the men in their lives. What is the significance of their friendship? How has it sustained the women?
During the course of the novel, Renata learned the true history of her family. Which "secret" did you enjoy the most? Which one had the biggest impact on her? Do you think she and Ferg will have a successful relationship?
or
Not Currently Available for Direct Purchase