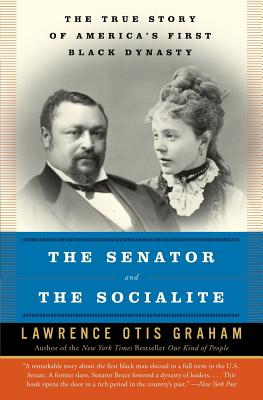 The Senator and the Socialite: The True Story of America's First Black Dynasty (Paperback)
The True Story of America's First Black Dynasty
Harper Perennial, 9780060985134, 455pp.
Publication Date: July 3, 2007
Description
Blanche Kelso Bruce was born a slave in 1841, yet, remarkably, amassed a real-estate fortune and became the first black man to serve a full term in the U.S. Senate. He married Josephine Willson--the daughter of a wealthy black Philadelphia doctor--and together they broke down racial barriers in 1880s Washington, D.C., numbering President Ulysses S. Grant among their influential friends. The Bruce family achieved a level of wealth and power unheard of for people of color in nineteenth-century America. Yet later generations would stray from the proud Bruce legacy, stumbling into scandal and tragedy.
Drawing on Senate records, historical documents, and personal letters, author Lawrence Otis Graham weaves a riveting social history that offers a fascinating look at race, politics, and class in America.
Praise For The Senator and the Socialite: The True Story of America's First Black Dynasty…
"Graham's research is impressive and comprehensive.…this compelling story shows how the American Dream can transmute into the American nightmare."
-Kirkus Reviews

"Informative…many striking tales. Mr. Graham is right to want to bring the story to a reading public."
-Wall Street Journal

"A compelling portrait of the Bruce family's rise, dynamics and downfall…A poignant tale of struggle, accomplishment…an illuminating account."
-Washington Post

"A rare, detailed glimpse into politics, race, and class in post-Reconstruction America."
-U.S. News & World Report

"Provides thorough and solid historical detail, political analysis and cultural discussion. Entertaining, intriguing and sometimes amazing story."
-Book Page

"Graham paints a compelling portrait of the important role Bruce played in the country's history."
-Chicago Sun-Times

"Excellent history of slavery, Reconstruction, post-Reconstruction, late 19th century politics and the misunderstood differences between early Republicans and Democrats."
-San Francisco Chronicle

"Graham...recovers the history of a family that broke barriers in Washington and at Exeter and Harvard."
-The New Yorker

"Not just a history but a revealing commentary on race and class, and their force in shaping our lives today."
-Chicago Tribune

"This book opens the door to a rich, though frustrating, period in the country's past."
-New York Post

"Graham's strength is his intricate deliniation of class, color, culture and social climbing."
-USA Today

"Graham details the political machinations of the post-Reconstruction South and one man's attempt to build and maintain a dynasty."
-Booklist

"Graham is a superb storyteller, and the Bruce dynasty perfect fodder for this gifted writer."
-Amsterdam News

"Graham digs deep and unearths secrets in…his absorbing book on money, class and color issues."
-Essence

"Graham expertly breaks down historical events."
-Entertainment Weekly

"Graham is an incisive historian [who] brings Senator Bruce to life through his careful research and clear narrative."
-Biloxi Sun Herald

"In another piece of powerful nonfiction, Lawrence Otis Graham returns to the shelves with The Senator and The Socialite."
-Ebony

"This account of a black family is a rags to riches to welfare tale that ought to intrigue."
-Publishers Weekly
Advertisement