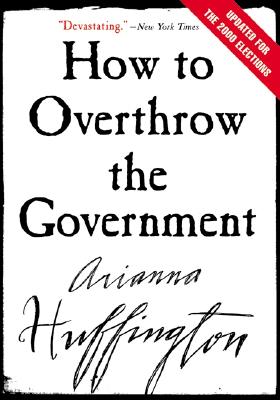 How to Overthrow the Government
Paperback

* Individual store prices may vary.
Description
Powerful and enlightening. How to Overthrow the Government is an impassioned call to arms from one of America's sharpest and most independent commentators. In its pages Huffington breaks away from the party-line platitudes of Republicans and Democrats alike while challenging Amerians to rise up and take back their government. From the power of special interests to the ravages of the war on drugs, Huffington offers radical yet viable strategies for reclaiming our nation from the corporate and political powers that hold it hostage. For, as she argues, if We the People are to preserve and protect our more perfect union, we must stand up and fight for our country -- before it's too late.
Harper Paperbacks, 9780060988319, 352pp.
Publication Date: April 3, 2001
About the Author
Arianna Huffington has been named one of Washington's most influential commentators by both Newsweek and People. Her syndicated column appears twice weekly in newspapers around the country, including the Los Angeles Times, the New York Post, and the Chicago Sun-Times. She is a frequent guest on television talk shows from Crossfire to Politically Incorrect, and a contributing writer to Talk magazine. The author of seven previous books, she lives in Los Angeles and Washington, D.C., with her two daughters.