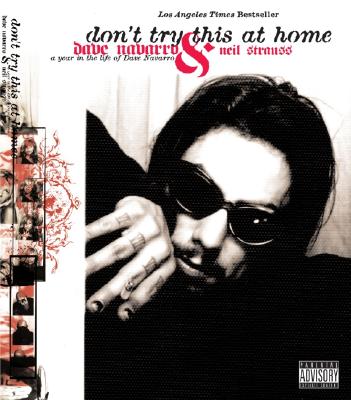 Don't Try This at Home (Paperback)
A Year in the Life of Dave Navarro
It Books, 9780060988531, 272pp.
Publication Date: October 18, 2005
* Individual store prices may vary.
Description
Step into the booth. Check your judgments at the curtain. Close your eyes. Listen: you can hear the voices of the visitors who sat here before you: some of the most twisted, drug-addled, deviant, lonely, lost, brilliant characters ever to be caught on film. What do you have to offer the booth?
About the Author
Dave Navarro racked up four platinum records and three Grammy nominations as the guitarist of Jane's Addiction and the Red Hot Chili Peppers. His 2003 marriage to Carmen Electra was captured in MTV's popular reality series, 'Til Death Do Us Part: Carmen and Dave.
Neil Strauss is the author of the New York Times bestsellers The Game, Rules of the Game, Emergency, and Everyone Loves You When You're Dead. He is also the co-author of three other New York Times bestsellers - Jenna Jameson's How to Make Love Like a Porn Star, Mötley Crüe's The Dirt and Marilyn Manson's The Long Hard Road out of Hell. A writer for Rolling Stone, Strauss lives in Los Angeles.