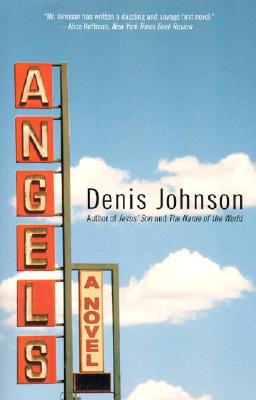 Angels
A Novel
Paperback

* Individual store prices may vary.
Description
The most critically acclaimed, and first, of Denis Johnson's novels, Angels puts Jamie Mays -- a runaway wife toting along two kids -- and Bill Houston -- ex-Navy man, ex-husband, ex-con -- on a Greyhound Bus for a dark, wild ride cross country. Driven by restless souls, bad booze, and desperate needs, Jamie and Bill bounce from bus stations to cheap hotels as they ply the strange, fascinating, and dangerous fringe of American life. Their tickets may say Phoenix, but their inescapable destination is a last stop marked by stunning violence and mind-shattering surprise.
Denis Johnson, known for his portraits of America's dispossessed, sets off literary pyrotechnics on this highway odyssey, lighting the trek with wit and a personal metaphysics that defiantly takes on the world.
Harper Perennial, 9780060988821, 224pp.
Publication Date: April 30, 2002
About the Author
Denis Johnson is the author of The Name of the World, Already Dead, Jesus' Son, Resuscitation of a Hanged Man, Fiskadoro, The Stars at Noon, and Angels. His poetry has been collected in the volume The Throne of the Third Heaven of the Nations Millennium General Assembly. He is the recipient of a Lannan Fellowship and a Whiting Writer's Award, among many other honors for his work. He lives in northern Idaho.