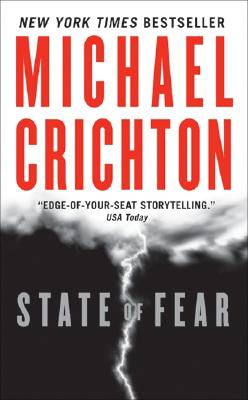 State of Fear (Mass Market Paperback)
Avon, 9780061015731, 688pp.
Publication Date: November 1, 2005
* Individual store prices may vary.
or
Not Currently Available for Direct Purchase
Description
In Tokyo, in Los Angeles, in Antarctica, in the Solomon Islands . . . an intelligence agent races to put all the pieces together to prevent a global catastrophe.
Praise For State of Fear…
"Crichton knows how to craft a tale, one that keeps the reader turning the pages."
-Houston Chronicle

"[Crichton's] expert manipulation of tension pays off in page-turning dividends. Cunningly orchestrated mayhem."
-Express

"Terrific fun."
-Daily Telegraph (London)

"There's no one else like him…a fast, fun read."
-Weekly Standard

"STATE OF FEAR grabs you from the start."
-The Weekend Australian

"In STATE OF FEAR Crichton weaves a stunning fiction around the issue of global warming."
-Australia Gold Coast Bulletin

"STATE OF FEAR is the world's first page-turner that people will want to read in one gulp."
-Montery County Herald

"A gripping techno thriller that…spares no expense when it comes to adventure, suspense and, ultimately, satisfaction."
-Pittsburgh Post-Gazette

"Crichton has written a book that deserves to be taken seriously."
-The New Yorker

"The thrills of Crichton's latest are interspersed with fascinating facts and data. Perhaps his most serious and important book yet."
-Booklist

"Cliffhanging action sequences."
-New York Times

"Provocative and controversial. [Crichton] marries compelling subject matter with edge-of-your-seat storytelling."
-USA Today

"One of the real pleasures of Crichton's books is their erudite polish."
-Slate

"…he understands science and how to separate fact from fiction. Impressive documentation."
-Washington Times

"For thriller fans, STATE OF FEAR is the perfect tonic for a weekend when you're snowbound."
-The Ottowa Sun

"In STATE OF FEAR, Michael Crichton delivers a lightening technopolitical thriller...every bit as informative as it is entertaining."
-Wall Street Journal

"Every bit as informative as it is entertaining. And it is very entertaining."
-Wall Street Journal

"Very enjoyable."
-The Evening Standard (London)

"Fascinating for how Crichton was trying to make the very absence of fear spooky."
-San Francisco Chronicle

"…this proves a pleasant way of learning a lot worth knowing."
-Philadelphia Inquirer

"You have to hand it to Michael Crichton; he knows how to tell a story."
-Wisconsin State Journal

"STATE OF FEAR is a valuable education in the guise of entertainment. Do yourself a favor and buy it."
-Pittsburgh Post-Gazette

"[A] snappy eco-thriller."
-Entertainment Weekly

"[Crichton's] expert manipulation of tension pays off in page-turning dividends. Cunningly orchestrated mayhem."
-Milwaukee Journal Sentinel

"A deftly crafted action/adventure novel."
-Pittsburgh Tribune

"A master. A connoisseur of catastrophe."
-Los Angeles Times

"Definitely page-turning."
-Detroit Free Press

"STATE OF FEAR is replete with heart-pounding suspense."
-Albany Times Union

"STATE OF FEAR is Michael Crichton's best."
-Bookreporter.com

"This is definitely one for the Christmas list."
-National Review

"Michael Crichton's new book will appeal to your inner techie."
-Washington Post Book World

"The king of the techno-thriller has once again given us a gripping, action-packed yarn."
-Birmingham Post

"Scary? You bet."
-People

"He imparts science while entertaining readers."
-Denver Post

…Plenty of thrills, chills and spills. STATE OF FEAR is required reading."
-The Electricity Daily

"An exciting story…in the hands of a master story-teller like Crichton, it's good entertainment."
-Sunday Telegraph

"Fast-faced and a fun read. A breath of fresh air."
-The Vancouver Province

"STATE OF FEAR is an exciting yarn."
-The Liverpool Daily Post
Advertisement