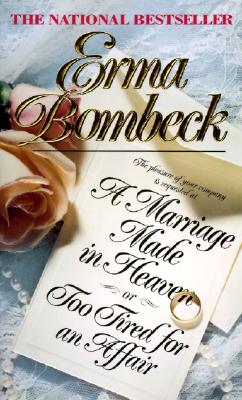 A Marriage Made in Heaven (Mass Market)
Or Too Tired for an Affair
HarperTorch, 9780061092022, 304pp.
Publication Date: October 16, 1994
Other Editions of This Title:
Compact Disc (7/1/2012)
Compact Disc (1/13/2000)
MP3 CD (1/13/2000)
Audio Cassette (3/1/1995)
* Individual store prices may vary.
Description
In this lovingly hilarious look at her 44-years-and-counting marriage to a man she wouldn't trade for anything in the world -- who would finish her sentences? -- Erma Bombeck offers observations as only she can, on:
The true test of compatibility: buying a house that "needs work"
Surviving parenthood, and the nest that won't stay empty
How times of struggle are a piece of cake compared to handling success
Elevating guilt to a sacrament
What to do with a man who saves instruction manuals; thinks a fishing license makes a great anniversary gift; and, thanks to the remote control, has never seen a television commercial
Frazzled mothers wondering who they have to sleep with to get fired from the job
Facing maternity, mortality, and metamorphosis together
This entertaining portrait of an American marriage is Erma Bombeck at her most intimate, and her funniest.
About the Author
Erma Bombeck, one of the most popular newspaper columnists in the United States and the author of numerous bestselling books, died in San Francisco on Monday, April 22, 1996 from complications following a kidney transplant earlier in the month.
Bombeck had been ill for some time. In 1992, after she underwent a mastectomy, her kidneys failed and she began dialysis at her home in Arizona. She suffered from polycystic kidney disease, a hereditary complaint. Even with her illness, Bombeck continued her weekly schedule of housework, her source for the hilarious columns and books for which she was widely loved.
"My type of humor is almost pure identification," she once told The New York Times. "A housewife reads my columns and says, 'But that's happened to me! I know just what she's talking about!'
"If I didn't do my own housework, then I have no business writing about it. I spend 90 percent of my time living scripts and 10 percent writing them."
Erma Bombeck's books include Motherhood: The Second Oldest Profession, which spent an entire year in the Number One spot on The New York Times bestseller list; Family: The Ties That Bind...and Gag!; If Life Is a Bowl of Cherries, What Am I Doing in the Pits?; I Want to Grow Hair, I Want to Grow Up, I Want to Go to Boise; When You Look Like Your Passport Photo, It's Time to Go Home, which was a New York Times bestseller and the sixth biggest selling nonfiction book of 1991; and A Marriage Made in Heaven...Or Too Tired for an Affair.
There are over twenty million copies of Erma shelved, and her thrice-weekly syndicated columns reached an estimated thirty million readers every week.
Bombeck was a regular on ABC-TV's Good Morning America for eleven years. She holds fifteen honorary doctorates, has been named to the list of the 25 Most Influential Women in America by the World Almanac since 1979, and was appointed by President Jimmy Carter to the President's Advisory Committee for Women when it was formed in 1978.
She is survived by her husband, William Bombeck, her mother, Erma Harris, and her three children.
or
Not Currently Available for Direct Purchase