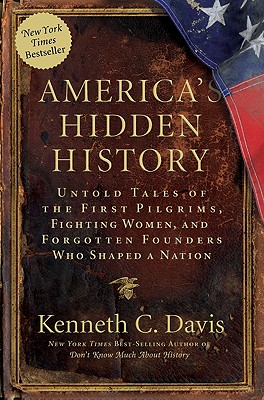 America's Hidden History (Paperback)
Untold Tales of the First Pilgrims, Fighting Women, and Forgotten Founders Who Shaped a Nation
Harper Paperbacks, 9780061118197, 288pp.
Publication Date: March 31, 2009
Other Editions of This Title:
Digital Audiobook (4/21/2008)
Paperback, Large Print (6/3/2008)
Hardcover (4/29/2008)
CD-Audio (10/26/2010)
Paperback (8/1/2010)
Compact Disc (4/22/2008)
* Individual store prices may vary.
Description
Kenneth C. Davis, author of the phenomenal New York Times bestseller Don't Know Much About History, presents a collection of extraordinary stories, each detailing an overlooked episode that shaped the nation's destiny and character. Davis's dramatic narratives set the record straight, busting myths and bringing to light little-known but fascinating facts from a time when the nation's fate hung in the balance.
Spanning a period from the Spanish arrival in America to George Washington's inauguration in 1789, America's Hidden History is an iconoclastic look at America's past, connecting some of the dots between history and today's headlines, and proving why Davis is truly America's teacher.
Find out:
Which Pilgrims arrived in Florida fifty years before the Mayflower sailed.
What Supreme Court Justice went to prison.
What traitor is honored with a statue for his bravery.
Which fighting woman in colonial New England scalped her Indian captors.
About the Author
Kenneth C. Davis is the New York Times bestselling author of A Nation Rising; America's Hidden History; and Don't Know Much About® History, which spent thirty-five consecutive weeks on the New York Times bestseller list, sold more than 1.6 million copies, and gave rise to his phenomenal Don't Know Much About® series for adults and children. A resident of New York City and Dorset, Vermont, Davis frequently appears on national television and radio and has been a commentator on NPR's All Things Considered. He blogs regularly at www.dontknowmuch.com.
Praise For America's Hidden History: Untold Tales of the First Pilgrims, Fighting Women, and Forgotten Founders Who Shaped a Nation…
PRAISE FOR AMERICA'S HIDDEN HISTORY: "[M]errily removes the whitewash from an often-bland concept of the past, peeling people from their statues with tales of how some of the most famous Americans of whom you never heard shaped our nation."
— Lisa Ko, author of The Leavers

"With his witty and irreverent view of this country's Colonial and revolutionary past, [Davis] ably shows that the success or failure of isolated events can have national and international consequences. May we expect a sequel to this delightful effort?"
— Library Journal

"Davis' engaging treatment is spicy but judicious…the book is far superior to standard high-school treatments, and a valuable reference for students young and old."
— Publishers Weekly

"Once again Ken Davis proves that what you don't know can be shocking. Do yourself a favor. Read this book."
— Richard M. Cohen, author of Strong at the Broken Places

"You'll learn lots in this engaging book of true, and often important, stories from U.S. history. These aren't the tales you'll find in most textbooks."
— Joy Hakim, author of A History of US

"Writing from a rich font of scholarship, seasoning the facts with wit, irony and a novelist's eye for telling detail, Kenneth C. Davis has conjured back to life some of the most fascinating figures of America's founding decades. "
— Ron Powers, co-author of Flags of Our Fathers