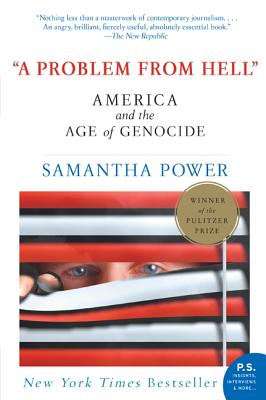 A Problem from Hell
America and the Age of Genocide
Paperback

* Individual store prices may vary.
Other Editions of This Title:
Compact Disc (4/12/2012)
Paperback (5/1/2003)
MP3 CD (8/4/2015)
Hardcover (3/1/2002)
MP3 CD (4/12/2012)
Compact Disc (4/12/2012)
MP3 CD (4/12/2012)
Description
In her award-winning interrogation of the last century of American history, Samantha Power—a former Balkan war correspondent and founding executive director of Harvard's Carr Center for Human Rights Policy—asks the haunting question: Why do American leaders who vow "never again" repeatedly fail to stop genocide? Drawing upon exclusive interviews with Washington's top policy makers, access to newly declassified documents, and her own reporting from the modern killing fields, Power provides the answer in "A Problem from Hell," a groundbreaking work that tells the stories of the courageous Americans who risked their careers and lives in an effort to get the United States to act.
Praise For A Problem from Hell: America and the Age of Genocide…
"A superb analysis of the US government's evident unwillingness to intervene in ethnic slaughter…"
-Kirkus Reviews (starred review)

"An angry, brilliant, fiercely useful, absolutely essential book."
-The New Republic

"Agonizingly persuasive."
-New York Review of Books

"[A Problem From Hell] challenges our conscience and should influence what we do in the future.''
-Lawrence H. Summers, President, Harvard University

"Magisterial."
-The New Yorker

"Disturbing...engaging and well written…will likely become the standard text on genocide prevention."
-Foreign Affairs

"Compelling…Power leads her readers on a long and often gut-wrenching journey…. Power's book raises vital questions."
-Reason

"[Power] is one of the most striking talents to emerge in the human rights field in a long time."
-Aryeh Neier, founder of Human Rights Watch

"One of those rare books that can change one's thinking...very painful reading, but it has to be read.''
-Former UN Ambassador Richard Holbrooke

"A history of our country that has never before been told... it should change the way we see America.."
-Doris Kearns Goodwin, author of No Ordinary Time: Franklin and Eleanor Roosevelt: The Home Front in World War II

"This is a moving account of how millions of lives were lost."
-Former Senate Majority Leader George J. Mitchell (D-Maine)

"A serious and compelling work... should be read by policy makers everywhere."
-Paul M. Kennedy, Dilworth Professor of History and Director, International Security Studies, Yale University

"Groundbreaking... Power elegantly makes her case."
-Newark Star Ledger

"Brilliantly conceived, superbly researched, mixing passion and erudition--it must be placed in the 'must read' category."
-Denver Post

"A damning indictment of American passivity in the face of some of history's worse crimes.
-Newsweek International

"The emotional force of Power's argument is carried by moving, sometimes almost unbearable stories of the victims and survivors."
-Publishers Weekly (starred review)

"Forceful… Power tells this long, sorry history with great clarity and vividness."
-Washington Post

"Power writes with an admirable mix of erudition and passion... focuses fiercely on the human costs of indifference and passivity...."
-Stanley Hoffmann, Buttenwieser University Professor, Harvard University

"Samantha Power has written one of those rare books that is truly as important as its subject."
-Philip Gourevitch, We Wish To Inform You That Tomorrow We Will Be Killed With Our Families: Stories from Rwanda

"Avoids partisan finger-pointing [and] is a clarion call for America to remain an engaged moral power."
-Weekly Standard

"Bracing...Power [is] the new conscience of the U.S. foreign-policy establishment."
-Time magazine
Harper Perennial, 9780061120145, 620pp.
Publication Date: September 1, 2007
or
Not Currently Available for Direct Purchase