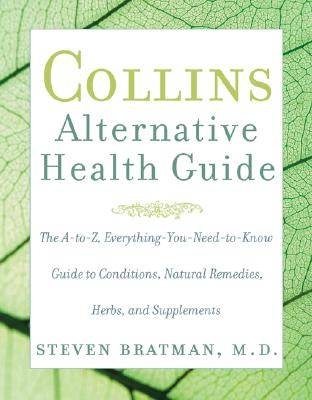 Collins Alternative Health Guide (Paperback)
Collins Reference, 9780061120183, 976pp.
Publication Date: April 24, 2007
* Individual store prices may vary.
Description
The interest of the public in alternative healthcare is large and growing. This book will bring a comprehensive database of information relating to alternative cures and therapies to a wide trade audience.
The Collins Alternative Health Guide will be broken into four sections complete with cross references that will link entries from one section to the next. These sections are:
1. Conditions: In depth A to Z descriptions of various conditions including symptoms, alternative treatments, and herbs and supplements that are commonly used with the condition.
2. Herbs and Supplements: An item by item description of commonly used herbs and supplements.
3. Diet and Nutrition: What you can do to maintain a healthy diet, including discussions on organic diets and vitamins and minerals.
4. Alternative Therapies: A description of alternative therapies from reflexology to aromatherapy.
About the Author
Steven Bratman, M.D., is an expert on the scientific evidence for and against alternative medicine. He was the principal author of the award-winning database The TNP Natural Health Encyclopedia. His other books include The Natural Health Bible: Revised and Expanded 2nd Edition, Mosby's Handbook of Herbs and Supplements and Their Therapeutic Uses, and Health Food Junkies.
or
Not Currently Available for Direct Purchase