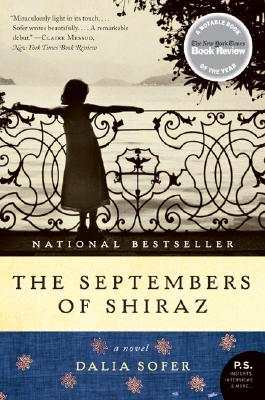 The Septembers of Shiraz (Paperback)
A Novel
Ecco, 9780061130410, 368pp.
Publication Date: April 29, 2008
* Individual store prices may vary.
Description
Soon to be a major motion picture starring Adrien Brody and Salma Hayek
In the aftermath of the Iranian revolution, rare-gem dealer Isaac Amin is arrested, wrongly accused of being a spy. Terrified by his disappearance, his family must reconcile a new world of cruelty and chaos with the collapse of everything they have known. As Isaac navigates the terrors of prison, and his wife feverishly searches for him, his children struggle with the realization that their family may soon be forced to embark on a journey of incalculable danger.
Praise For The Septembers of Shiraz: A Novel…
"A remarkable debut...richly evocative, powerfully affecting…as beautiful and delicate as a book about suffering can be."

"Dalia Sofer's debut novel marks itself out as extraordinary…an impressive debut."

"First time novelist Dalia Sofer does the House of Sand and Fog one better by weaving a story from four perspectives, offering a unique glimpse into the emotional fallout from political upheaval and what it's like to know you're about to lose everything."

"Sofer successfully uses the rich details of a sense-saturated country to emphasize how alone her characters feel despite an appearance of family and comfort…as Sofer elegantly demonstrates in this novel…the true survivor is one who learns to preserve his identity."

"The same seems true about talent, which Sofer clearly possesses in abundance."

"[A] gripping first novel...Sofer's prose is lyrical and sometimes haunting."

"In her gripping debut novel…Sofer creates a page-turner that leaves you wanting to know more."

"…her elegant prose works magic…Sofer perfectly captures Iran's transition to theocratic republic."

"…brave and humane first novel… exquisite and profoundly moving."

"Gripping work…a powerful story honestly told."

"The pages of her debut novel...radiate rich, evocative, often painful details of her homeland."

"[A] psychologically resonant debut."

"A powerful, timely book." Grade: A-

"A melancholic and tender tale, told with elegance, judgment and discrimination."

"Interest in Iran isn't going away, and Sofer's angle is bound to entice readers…a natural for book clubs."

"As intelligent as it is gripping."

"Nicely layered, the story shimmers with past secrets and hidden motivations."

"This is a story that needs to be told...timely and ripe for discussion."

"Stunning—beautiful, tragic, layered, and thought-provoking."

"That this beautiful novel is a debut seems almost impossible . . . a remarkable emotional and intellectual achievement."

"One of the most beautiful first novels I've ever come across. It is a rare book."

"Spare and deeply felt-Sofer's prose shines with life and compassion."

"[A] beautiful novel--rich and exact in its depictions of one family's ordeal in Iran after the Shah."

"…beautifully written book suffused with human suffering and the longing for love and belonging…"

"…finely wrought…this novel captures in riveting images the prelude to the exodus of Iranian Jews."