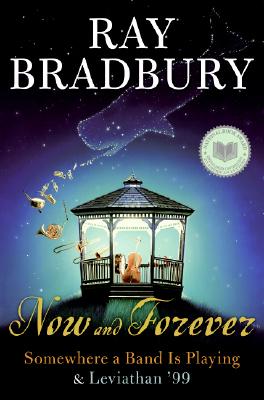 Now and Forever
Somewhere a Band Is Playing & Leviathan '99
Hardcover

* Individual store prices may vary.
Other Editions of This Title:
Digital Audiobook (6/6/2016)
Mass Market (7/29/2008)
Paperback (8/1/1993)
Paperback, Large Print, Large Print (9/1/2007)
Description
Two never-before-published novellas by one of America's finest living writers, Ray Bradbury.
A journalist bearing terrible news leaps from a still-moving train into a small town of wonderful, impossible secrets . . .
The doomed crew of a starship follow their blind, mad captain on a quest into deepest space to joust with destiny, eternity, and God Himself . . .
Now and Forever is a bold new work from an incomparable artist whose stories have reshaped America's literary landscape; two bewitching novellas that have never before appeared in print—each distinctly different, yet uniquely Bradbury—demonstrating the breathtaking range of the master's talent and the irrepressible vitality of his mind, spirit, and heart.
In Somewhere a Band Is Playing, a writer is drawn by poetry and dreams to tiny Summerton, Arizona, a community hidden in plain view, where no small children play, and where the residents never seem to age. Enchanted by its powerful rural magic—and by a beautiful, enigmatic lady who bears the name of an Egyptian queen—the writer sets out to uncover Summerton's mysteries before the inevitable arrival of a ruthless destruction.
With Leviathan '99, the author who once colonized Mars returns to the cosmos to brilliantly reimagine Herman Melville's classic masterwork of obsession and the sea, transforming a great whale into a worlds-devouring comet. In the year 2099, fledgling astronaut Ishmael Hunnicut Jones boards the Cetus 7, placing his fate in the hands of a relentless madman who is blindly chasing the celestial monster's tail. And in the merciless void, a crew of earthborn and alien star-travelers will face a divine judgment, and an "enemy" wielding the most fearsome weapon of all . . . Time.
More than a half century into his remarkable career, Ray Bradbury continues to delight and astound with grand visions, lyrical prose, and provocative thought. Rich in poetry, wonder, imagination, and truth, here is proof positive that the words and stories of the inimitable Bradbury will live on . . . Now and Forever.
William Morrow, 9780061131561, 224pp.
Publication Date: September 4, 2007
About the Author
In a career spanning more than seventy years, Ray Bradbury, who died on June 5, 2011 at the age of 91, inspired generations of readers to dream, think, and create. A prolific author of hundreds of short stories and close to fifty books, as well as numerous poems, essays, operas, plays, teleplays, and screenplays, Bradbury was one of the most celebrated writers of our time. His groundbreaking works include Fahrenheit 451, The Martian Chronicles, The Illustrated Man, Dandelion Wine, and Something Wicked This Way Comes. He wrote the screen play for John Huston's classic film adaptation of Moby Dick, and was nominated for an Academy Award. He adapted sixty-five of his stories for television's The Ray Bradbury Theater, and won an Emmy for his teleplay of The Halloween Tree. He was the recipient of the 2000 National Book Foundation Medal for Distinguished Contribution to American Letters, the 2004 National Medal of Arts, and the 2007 Pulitzer Prize Special Citation, among many honors.
Throughout his life, Bradbury liked to recount the story of meeting a carnival magician, Mr. Electrico, in 1932. At the end of his performance Electrico reached out to the twelve-year-old Bradbury, touched the boy with his sword, and commanded, "Live forever!" Bradbury later said, "I decided that was the greatest idea I had ever heard. I started writing every day. I never stopped."
or
Not Currently Available for Direct Purchase