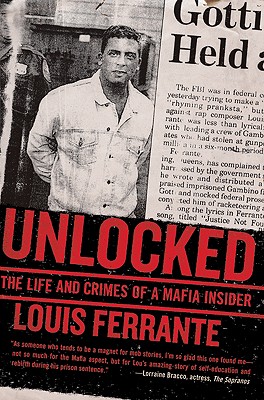 Unlocked
The Life and Crimes of a Mafia Insider
Paperback

* Individual store prices may vary.
Description
From Louis Ferrante, a one-time mafia thug and federal prison inmate, comes this remarkable and moving memoir of his journey from a life of crime to that of a promising writer
Up until his incarceration, Louis Ferrante led the life of a mobster. As a young ruffian, he made his reputation by leading a street gang and shooting a neighborhood bully. Later, he became connected with John Gotti Jr. and the Gambino crime family. During his time with the mob, Ferrante committed the most lucrative robberies in US history, many of which are still unsolved. But soon enough, the law caught up to him. Indictments came from the Secret Service, the Nassau County Organized Crime Force, and the FBI (twice) and Louis found himself behind bars.
In jail, Louis read his first book and a new world was opened up to him. During the course of his 8 years he read everything from Caesar's Gallic Wars to Danielle Steele and everything in between. With only what he could teach himself, Louis successfully appealed his own conviction, a landmark case that now appears in textbooks. In addition to law, Ferrante studied the three major faiths, including Buddhism. He eventually chose to become an Orthodox Jew.
Free from prison, Ferrante's memoir retells his meteoric rise to the upper-echelon of the mafia hierarchy, his time in prison, and the astonishing turn around his life has made. After spending most of his life involved with crime or in jail, Louis Ferrante has reinvented himself as a writer. With a crisp yet harsh writing style similar to Charles Bukowski, Ferrante's stories of crime with the mob and his time spent in prison are sure to captivate audiences.
Praise For Unlocked: The Life and Crimes of a Mafia Insider…
"Ferrante produces a raw, brutal memoir with glimmers of hope and redemption, and in so doing, this true crime account does not resemble any of the cardboard wise guys of the tube or the silver screen. It definitely grabs the reader's attention."
— Publishers Weekly

"As someone who tends to be a magnet for Mob stories, I'm so glad this one found me—not so much for the mafia aspect, but for Lou's amazing story of self-education and re-birth during his prison sentence."
— Lorraine Bracco, actress, Goodfellas and The Sopranos

"To hear Ferrante speak seriously about his life is to hear the story of a man who once brutalized others—and vows to change."
— Los Angeles Times

"A deeply moving, honest account of an extraordinary life."
— Nicholas Pileggi, author of Wiseguy and Casino

"Written with terrific candor effortlessly incorporating street talk into his masterful storytelling. . . . Ferrante's vignettes of heists and thievery, sprinkled with capers involving gambling and women, make for great reading. . . . Reads like a Scorsese movie. . . . Engrossing."
— Jewish Book World
Harper Perennial, 9780061133862, 320pp.
Publication Date: February 24, 2009
About the Author
Louis Ferrante was born and raised in Queens, New York. Unlocked is his first book.