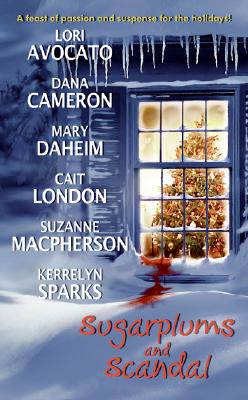 Sugarplums and Scandal (Mass Market)
Avon, 9780061136955, 336pp.
Publication Date: October 31, 2006
* Individual store prices may vary.
Description
SUGARPLUMS AND SCANDAL brings together the best of romance and mystery in one delightful collection of Christmas tales. In the expert hands of six of Avon's best storytellers, the holiday season takes on an air of love and scandalous surprises! Filled with Christmas miracles, romance, and suspense, this will make the perfect gift for both romance and mystery fans. Each author brings their own unique voice and characters to the collection, as well as their fan followings.
All I Want For Christmas is My Two Front Teeth – Lori Avocato
The Lords of Misrule – Dana Cameron
The Ghost of Christmas Passed – Mary Daheim
Partners in Crime – Cait London
Holly Go Lightly – Suzanne Macpherson
A Very Vampy Christmas – Kerrelyn Sparks
About the Author
Dana Cameron is a professional archaeologist, with a Ph.D. and experience in Old and New World archaeology. She has worked extensively on the East Coast on sites dating from prehistoric times to the nineteenth century. Ms. Cameron lives in Massachusetts. Ashes and Bones is her sixth novel featuring archaeologist Emma Fielding.
Mary Richardson Daheim is a Seattle native with a communications degree from the University of Washington. Realizing at an early age that getting published in books with real covers might elude her for years, she worked on daily newspapers and in public relations to help avoid her creditors. She lives in her hometown in a century-old house not unlike Hillside Manor, except for the body count. Daheim is also the author of the Alpine mystery series, the mother of three daughters, and has three grandchildren.
After serving in the Air Force as a registered nurse, Lori Avocato decided to give up nursing to write fiction. She lives in New England and is a member of the Mystery Writers of America, PASIC, NINC, Romance Writers of America, the Author's Guild, and Sisters in Crime. She's raising two teenage sons (heaven help her!), and one darling dog, Spanky. Lori is the author of six novels featuring Pauline Sokol: A Dose of Murder; The Stiff and the Dead; One Dead Under the Cuckoo's Nest; Deep Sea Dead; Nip, Tuck, Dead; and Dead on Arrival.
Kerrelyn Sparks is the bestselling author of the Love at Stake series, which has hit as high as number 5 on the New York Times list and 22 on the USA Today list. Kerrelyn is honored that her band of merry vampires and shifters is spreading love and laughter worldwide in fourteen different languages.
Dear Readers,
Sometimes when you write a special book, the characters move into your heart and take up residence. This was the case with the cast of Hysterical Blondeness. I enjoyed my time with each and every one of them and I hope you do, too.
Peace, Suzanne Macpherson
Cait London is a national award-winning, bestselling author who fully enjoys the perks of her career, like traveling and meeting readers.
Cait's contemporary, fast-moving style blends romance with suspense and humor, and brings characters to life by using their pasts and heritages. Her books are filled with elements of her own experiences as a scenic and wildlife artist, a photographer, a mountain hiker, a gardener, a seamstress, a professional woman, and a homemaker. She also enjoys computers and reading, aromatherapy and herbs.
Of German-Russian heritage, Cait grew up in rural Washington State. She is now a resident of Missouri and the mother of three daughters, all taller than she.
The best events in her life have always been in threes, her good luck number. Cait London says, "I enjoy creating romantic collisions between dangerous, brooding heroes and contemporary, strong, active women who know how to manage their lives. I believe that each of my books is a gift to a reader, a part of me on those pages, and I'm thrilled when readers say, "That was a good book.'"
or
Not Currently Available for Direct Purchase