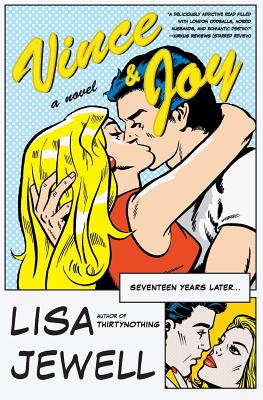 Vince and Joy (Paperback)
HarperCollins Publishers, 9780061137464, 502pp.
Publication Date: October 3, 2006
Description
Remember falling in love for the first time? Remember thinking, This is The One? Remember life getting in the way? From adolescent snogging to apartment shares, relationships, career crises, and children, Vince & Joy is the unforgettable story of two lives lived separately but forever entwined.
Back in the 1980s, teenagers Vince and Joy met, fell desperately in love, and never quite said good-bye. Now nearly twenty years later they've both begun to ask themselves if that long-ago romance was the enduring love that they've been searching for.
Praise For Vince and Joy…
"An unforgettable sweet summer story of two lives that are lived separately—but forever entwined."
-The Sun

"Ridiculously readable. A-"
-Entertainment Weekly

"Deliciously addictive…Can Jewell sustain 500 pages of suspense until our lovers reconnect? Oh, yeah…with wit and well-rendered characters."
-Kirkus Reviews, starred review

"I read the first three-pages—and that was it. I was off, like a bloodhound…It gobbles you up whole."
-Daily Telegraph (London)

"Well-written, engrossing popular fiction, pack this one in your suitcase—you won't be sorry."
-Birmingham Post
Advertisement