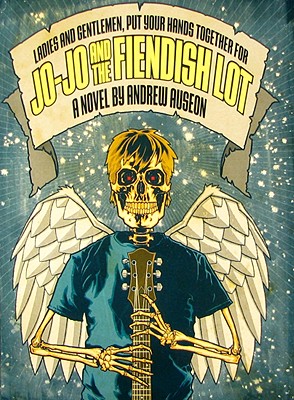 Jo-Jo and the Fiendish Lot (Hardcover)
HarperTeen, 9780061139239, 480pp.
Publication Date: March 3, 2009
* Individual store prices may vary.
Description
There is a life after death, but only for the terminally cool. . . .
Jo-Jo Dyas doesn't believe he has any reason to live, but then he finds the surprisingly lively dead girl in the culvert and she convinces him otherwise. She and her punk band, the Fiendish Lot, come from the Afterlife, a strange, colorless place where souls sometimes pause on the journey between this world and the next. When Jo-Jo follows her there, he gets a chance to make right all the things that have gone wrong in his life . . . but only if he can figure out how before he fades away into nothing. Maybe the answer lies in Jo-Jo's late-breaking realization: Being alive is kind of cool.
Rude, raw, and blisteringly funny, Andrew Auseon's new novel is like one of those insanely catchy songs that you can't forget and won't want to. So pay attention: The afterlife you save may be your own.
About the Author
Andrew Auseon is a video game designer and the author of Funny Little Monkey, Jo-Jo and the Fiendish Lot, and Alienated, which he wrote with filmmaker David O. Russell. Andrew lives in Baltimore, Maryland, with his family.
or
Not Currently Available for Direct Purchase