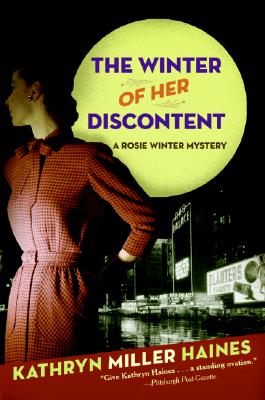 The Winter of Her Discontent (Paperback)
William Morrow & Company, 9780061139802, 322pp.
Publication Date: June 24, 2008
* Individual store prices may vary.
or
Not Currently Available for Direct Purchase
Description
It's tough shooting for stardom when there's a war on. But Rosie's got enough pluck for two: she's willing to stumble around in a Broadway dance chorus that she has no right to be a part of, in a musical that's got "flop" written all over it. And all the while, she's worrying about her missing-in-action soldier boyfriend, who hasn't written in months. Lately, she's also been keeping bad company with her mob-muscle pal, Al, who's dabbling in a host of shady money-making enterprises in this time of shortages and rationing. But despite his illicit line of work, Al's no killer. When the cops finger him for his girlfriend's murder, Rosie and Jayne, her close compatriot/fellow castmate, set out to clear big Al's name, and plunge into an intricate backstage drama featuring a bevy of suspiciously well-dressed wannabe starlets. But the plot could soon be taking another lethal turn, bringing a final curtain down on Rosie, Jayne, and all their good intentions.
Praise For The Winter of Her Discontent…
"Haines brings home the painful price the "greatest generation" paid more gallantly than anyone then knew."
-Publishers Weekly

"A breezy look back at the '40s, complete with starlets in short skirts and mobsters smoking Cuban cigars."
-Kirkus Reviews

"Haine's assured debut brings the WWII era to vivid life."
-Publishers Weekly

"[a] pitch-perfect rendering of the early '40s, from rationing to java stops at the automat."
-Kirkus Reviews

"Perfectly captures the feel, sights and sounds of New York in the 1940s."
-Rhys Bowen

"A fun romp."
-Publishers Weekly

"Haines capably combines homefront ambience (rationing, worries over soldier boyfriends)with plenty of backstage drama....and Rosie and Jane make a winning team of fiesty homefronters..."
-Booklist
Advertisement