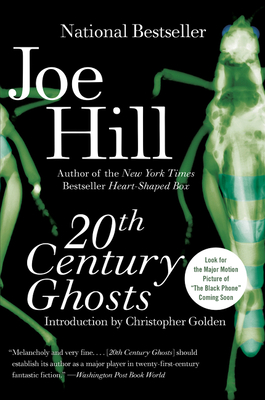 20th Century Ghosts
Paperback

* Individual store prices may vary.
Other Editions of This Title:
Digital Audiobook (10/15/2007)
Paperback, Large Print (7/1/2008)
Description
Joe Hill's award-winning story collection, featuring "The Black Phone," soon to be a major motion picture from Universal Pictures and Blumhouse Productions
Imogene is young, beautiful . . . and dead, waiting in the Rosebud Theater one afternoon in 1945. . . .
Francis was human once, but now he's an eight-foot-tall locust, and everyone in Calliphora will tremble when they hear him sing. . . .
John is locked in a basement stained with the blood of half a dozen murdered children, and an antique telephone, long since disconnected, rings at night with calls from the dead. . . .
Nolan knows but can never tell what really happened in the summer of '77, when his idiot savant younger brother built a vast cardboard fort with secret doors leading into other worlds. . . .
The past isn't dead. It isn't even past. . . .
The first collection from #1 New York Times bestselling author Joe Hill, 20th Century Ghosts is an inventive and chilling compendium that established this award-winning, critically acclaimed author as "a major player in 21st-century fantastic fiction" (Washington Post).
Praise For 20th Century Ghosts…
"Hill's best stories veer away from the well-trodden creep shows and back alleys of genre writing into more dangerous territory: suburban basements, ball fields and schoolyards." — Washington Post
"[An] inventive collection . . . brave and astute." — New York Times Book Review
"Fully developed characters with complex emotional lives enhance the 14 stories in Joe Hill's extraordinary collection,20th Century Ghosts. There's not a false note or disappointing effort in this volume." — Publishers Weekly (starred review)
"The collection of short stories ranges from creepy to sweet, with an impressive arsenal of tactics to attack your psyche." — Boston Globe
"20th Century Ghosts is Hill's first collection of short stories and displays consummate skill in a variety of genres . . . Amusing, moving, horrifying—Ghosts runs the full spectrum." — USA Today
"Alternately sad, scary, strange and at times even sweet, these tales will haunt you long after you've read them." — Parade
"[A] lovely, earnest collection of short fiction." — Village Voice
"[O]ne of the best [horror] collections of the year. Hill is a relative newcomer who consistently creates creepy, very disturbing stories." — Locus
"Each tale is unique, and the collection proves that Hill's talent is not limited to horror, but extends well into the mainstream." — Denver Rocky Mountain News
"[A] new take on the fantasy-horror genre...Highly recommended." — The Sun Herald (Sydney, Australia)
"The selections range from the mundane to the surreal, with a strong emphasis on the kind of horror tale perfected by Ray Bradbury, Peter Straub and Stephen King." — San Francisco Chronicle
"This solid, inventive, scary collection of stories reveals a writer who has thought hard about the problematics of horror." — New York Times on 20TH CENTURY GHOSTS
"Each of these chilling tales arrests you from the opening sentence and leads you — trustingly, thanks to the simple mastery of the story-teller — into a place of gulping fear." — Daily Mail (London) on 20TH CENTURY GHOSTS
"Subtle and disturbing in equal measure." — Coventry Telegraph on 20TH CENTURY GHOSTS
"Irresistible stories." — Evening Herald (Ireland)
William Morrow Paperbacks, 9780061147982, 336pp.
Publication Date: September 16, 2008
About the Author
Joe Hill is the #1 New York Times bestselling author of the novels The Fireman, NOS4A2, Horns, and Heart-Shaped Box; Strange Weather, a collection of novellas; and the acclaimed story collections Full Throttle and 20th Century Ghosts. He is also the Eisner Award–winning writer of a seven-volume comic book series, Locke & Key. Much of his work has been adapted for film and TV, including NOS4A2 (AMC), Locke & Key (Netflix), and In the Tall Grass (Netflix).