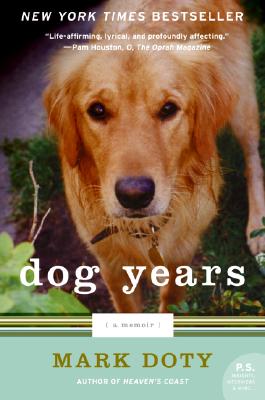 Dog Years (Paperback)
A Memoir
Harper Perennial, 9780061171017, 256pp.
Publication Date: April 8, 2008
Other Editions of This Title:
Digital Audiobook (3/12/2007)
Hardcover (3/13/2007)
* Individual store prices may vary.
Description
A Washington Post Book World Best Book of the Year
Winner of the Israel Fishman-Stonewall Book Award for Nonfiction
"Tender and amusing. . . . Doty brilliantly captures the qualities that make dogs endearing." -- The New Yorker
When Mark Doty decides to adopt a dog as a companion for his dying partner, he brings home Beau, a large, malnourished golden retriever in need of loving care. Joining Arden, the black retriever, to complete their family, Beau bounds back into life. Before long, the two dogs become Doty's intimate companions, and eventually the very life force that keeps him from abandoning all hope during the darkest days.
Dog Years is a poignant, intimate memoir interwoven with profound reflections on our feelings for animals and the lessons they teach us about living, love, and loss.
About the Author
Mark Doty's books of poetry and nonfiction prose have been honored with numerous distinctions, including the National Book Critics Circle Award, the PEN/Martha Albrand Award, the Los Angeles Times Book Prize, and, in the United Kingdom, the T. S. Eliot Prize. In 2008, he won the National Book Award for Fire to Fire: New and Selected Poems. He is a professor at the University of Houston, and he lives in New York City.
Praise For Dog Years: A Memoir…
"Tender and amusing…Doty brilliantly captures the qualities that make dogs endearing."
— The New Yorker

"Life-affirming, lyrical, and profoundly affecting…Only Mark Doty could have written a dog book...that covers so much ground."
— Pam Houston, O magazine

"Potent and expressive...The weight of Doty's adoration for his pets is expressed with...eloquence throughout."
— San Francisco Chronicle

"This is Doty at his best....Doty does in fact make the unsayable sayable, bringing the ungraspable within our reach."
— Los Angeles Times

"A tender reflection on love and loss, this is MARLEY & ME for the cerebral."
— People

"Doty pays loving tribute to two retrievers…DOG YEARS is a warm, thought-provoking discourse."
— Entertainment Weekly

"A wounding yet arresting memoir about living with his dogs…Doty's gorgeous prose and piercing meditations...are simply sublime."
— Washington Post Magazine

"Lyrical and sensitive…Doty poetically expresses what many have felt but few can articulate."
— USA Today

"Doty is at his best…exploring the mirrorlike quality of a dog's gaze or the inextricable duality of hope and despair.."
— New York magazine

"A meditation on how we can live with hope…Dog Years wrestles with the Big Questions."
— Houston Chronicle

"I was charmed, moved, often fascinated…Doty manages to make inner lives just a little more knowable."
— Chicago Sun-Times

"No human has ever loved his animals as Mark Doty has…Doty possesses a particular brilliance...[A] stirring chronicle of love."
— Minneapolis Star Tribune

"A great poet can break your heart, sometimes with a single line. Mark Doty proves it twice over….Utterly unforgettable."
— Palm Beach Post

"Frankly and beautifully told…DOG YEARS respects Beau's and Arden's singularity. Doty describes them lovingly, with poetic specificity."
— John Freeman, Newark Star Ledger

"By turns, comic, heartwarming, sentimental (in the very best way) and ultimately heartbreaking."
— Ken Munger, Sacramento News and Review

"Doty writes unsentimentally but affectingly about the solace and companionship dogs provide...the hope...they bring into a home."
— Out Magazine

"Rather amazing...A profound reflection on hope, and a song of praise for the dead."
— Kirkus Reviews (starred)

"Poignant, intelligent, and quite simply superb."
— Library Journal (starred)

"DOG YEARS points out what is...magical about life with animals…A...twinkling landscape of the human heart."
— BookPage

"Doty delivers a soulful love story which illuminates...the big human mysteries…As intellectually evocative as it is emotionally resonant."
— Publishers Weekly (starred review)

"Evocative, compassionate, a love story both intimate and grand, this is a beautiful book."
— Amy Hempel

"A dazzling, tactile grasp of the world... both arresting and touching."
— New York Times Book Review