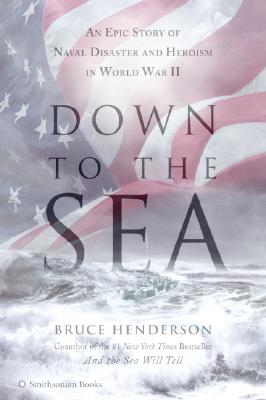 Down to the Sea
An Epic Story of Naval Disaster and Heroism in World War II
Hardcover

* Individual store prices may vary.
Other Editions of This Title:
Paperback (11/4/2008)
Description
This epic story opens at the hour the Greatest Generation went to war on December 7, 1941, and follows four U.S. Navy ships and their crews in the Pacific until their day of reckoning three years later with a far different enemy: a deadly typhoon. In December 1944, while supporting General MacArthur's invasion of the Philippines, Admiral William "Bull" Halsey neglected the Law of Storms—the unofficial bible of all seamen since the days of sail—placing the mighty U.S. Third Fleet in harm's way. One of the most powerful fighting fleets ever assembled under any flag, the Third Fleet sailed directly into the largest storm the U.S. Navy had ever encountered—a maelstrom of 90-foot seas and 160-mph winds. More men were lost and ships sunk and damaged than in most combat engagements in the Pacific. The final toll: 3 ships sunk, 28 ships damaged, 146 aircraft destroyed, and 756 men lost at sea.
In all, 92 survivors from the three sunken ships (each carrying a crew of about 300) were rescued, some after spending up to 80 hours in the water. Scores more had made it off their sinking ships only to perish in the monstrous seas; some from injuries and exhaustion, others snatched away by circling sharks before their horrified shipmates. In the far-flung rescue operations Bruce Henderson finds some of the story's truest heroes, exhibiting selflessness, courage, and even defiance. One badly damaged ship, whose Naval Reserve skipper disobeyed an admiral's orders to abandon the search, single-handedly saved 55 lives.
Drawing on extensive interviews with nearly every living survivor and rescuer, many families of lost sailors, transcripts and other records from two naval courts of inquiry, ships' logs and action reports, personal letters, and diaries, Bruce Henderson offers the most thorough and riveting account to date of one of the greatest naval dramas of World War II.
Praise For Down to the Sea: An Epic Story of Naval Disaster and Heroism in World War II…
Praise for AND THE SEA WILL TELL: "Engrossing...compelling. This book succeeds on all counts"
— L.A. Times Book Review

Praise for TRUE NORTH: "Nail-biting true adventure"
— Kirkus Review

Praise for TRUE NORTH: "A masterful job"
— San Francisco Chronicle
Smithsonian, 9780061173165, 384pp.
Publication Date: October 30, 2007
About the Author
Bruce Henderson has written more than twenty books, including the national bestseller Hero Found and Rescue at Los Baños. Henderson served aboard the aircraft carrier USS Ranger (CVA-61) during the Vietnam War. He lives in Menlo Park, California.
or
Not Currently Available for Direct Purchase