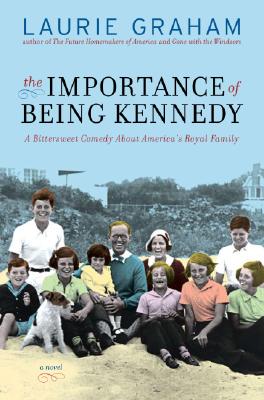 The Importance of Being Kennedy (Hardcover)
Harper, 9780061173523, 368pp.
Publication Date: March 1, 2008
* Individual store prices may vary.
or
Not Currently Available for Direct Purchase
Description
From bestselling author Laurie Graham comes the late-life diaries of the Kennedys' fictitious nanny: an inside look into the early years of the Kennedy dynasty with all the juicy bits intact.
When Nora Brennan, fresh to America from Ireland, lands herself a position as nursery maid to a family in Brookline, Massachusetts, she little thinks it will place her at the heart of American history. But her job is with the Kennedy family, so how could it not?
Nora has charge of all nine Kennedy children, practically from the minute they're born. She sees the boys coached at their father Joe's knee to believe everything they'll ever want in life can be bought. She sees the girls trained by Rose Kennedy ("Herself") to be good Catholic wives. With her sharp eye and her quiet common sense, Nora is the perfect candidate to report on an empire in the making.
World War II changes everything. When war breaks out, Nora and the Kennedys are in London, where Joseph Kennedy is the American ambassador. His reaction is to send the entire household back across the Atlantic to safety, but Nora, surprised by midlife love, chooses to stay in England and do her bit for the war effort. Separated from her Kennedys by an ocean, she nevertheless remains the warm, approachable sun around which the older children orbit: Joe Jr. and Jack, both serving in the US Navy; Rosemary, tragically unable to fit into the Kennedy mold; and Kathleen, known affectionately as "Kick," who throws a spanner in the Kennedy works by marrying an English Protestant.
Dear Nora has a deliciously inside view of everything that is happening upstairs, and in this fictional diary she tells all with the humor and candor that only a nursemaid dare employ.
Witty, irreverent, and a rollicking good read, The Importance of Being Kennedy is social satire at its best.
Praise For The Importance of Being Kennedy…
"Lush....The tart observations of lives of privilege may take the shine off the Camelot myth, but Graham's book is marked not by ridicule but rather by an elegant, forthright poignancy. A refreshingly nostalgia-free portrayal that breathes life into the Kennedy story."
-Kirkus Reviews

"A titillating and amusing...book, because it walks such a fragile line between what is known fact and what the author has embellished and concocted....Ms. Graham's Nora is the personification of the immortal nanny who knew everything and said nothing - but took notes."
-Washington Times

"Chatty and insightful...perceptive....Graham blends accurate historical detail with Nora's outspoken and gossipy vernacular in this highly entertaining read."
-Booklist

"Mingling history and fiction puts Graham in good literary company…romance and dry humor keep things moving…. The chance to watch Nora's employers swan in and out of view will draw readers, and Graham will keep as many as she can charm."
-New York Times Book Review

"Entertaining...delves into the Kennedy family legend, with energetic pace, witty dialogue and vividly drawn characters."
-The Observer

"Tightknit, ambitious and out to prove a point to the world, this is the fictionalised tale of the Kennedys from below the stairs....This simple yet enthralling narrative kept my interest the whole way....A lovely tale, this is another well-written offering from Laurie Graham."
-Daily News (New Plymouth, New Zealand)

"Bitter and sweet as well as affecting...tender."
-New York Daily News

"A convincing and often moving version of the private realities behind America's most public family."
-Daily Mail (London)
Advertisement