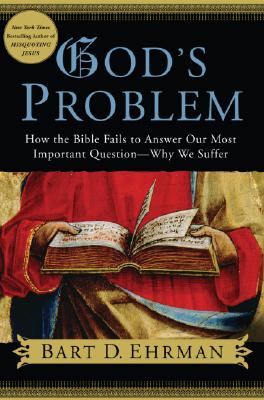 God's Problem
How the Bible Fails to Answer Our Most Important Question--Why We Suffer
Hardcover

* Individual store prices may vary.
Other Editions of This Title:
Digital Audiobook (2/18/2008)
Paperback (2/24/2009)
Description
In times of questioning and despair, people often quote the Bible to provide answers. Surprisingly, though, the Bible does not have one answer but many "answers" that often contradict one another. Consider these competing explanations for suffering put forth by various biblical writers:
The prophets: suffering is a punishment for sin
The book of Job, which offers two different answers: suffering is a test, and you will be rewarded later for passing it; and suffering is beyond comprehension, since we are just human beings and God, after all, is God
Ecclesiastes: suffering is the nature of things, so just accept it
All apocalyptic texts in both the Hebrew Bible and the New Testament: God will eventually make right all that is wrong with the world
For renowned Bible scholar Bart Ehrman, the question of why there is so much suffering in the world is more than a haunting thought. Ehrman's inability to reconcile the claims of faith with the facts of real life led the former pastor of the Princeton Baptist Church to reject Christianity.
In God's Problem, Ehrman discusses his personal anguish upon discovering the Bible's contradictory explanations for suffering and invites all people of faith—or no faith—to confront their deepest questions about how God engages the world and each of us.
Praise For God's Problem: How the Bible Fails to Answer Our Most Important Question--Why We Suffer…
"Ehrman's clarity, simplicity, and congeniality help make this a superb introduction to its subject." — Booklist
"Ehrman, a prolific and popular author, has put his journey into words in a new book "God's Problem. ...Ehrman actually ends "God's Problem" on an upbeat note, a kind of call to arms for people to be good--to themselves and to others..." — San Diego Tribune
"[An] entrapped invocation of a God who is not believed in, but is nonetheless despised, is what gives the book a rough power. …[Ehrman] is a lucid expositor…" — The New Yorker
HarperOne, 9780061173974, 304pp.
Publication Date: February 19, 2008
About the Author
Bart D. Ehrman is one of the most renowned and controversial Bible scholars in the world today. He is the James A. Gray Distinguished Professor of Religious Studies at the University of North Carolina, Chapel Hill, and is the author of more than twenty books, including the New York Times bestsellers How Jesus Became God; Misquoting Jesus; God's Problem; Jesus, Interrupted; and Forged. He has appeared on Dateline NBC, The Daily Show with Jon Stewart, CNN, History, and top NPR programs, as well as been featured in TIME, the New York Times, The Washington Post, The New Yorker, and other publications. He lives in Durham, North Carolina. Visit the author online at www.bartdehrman.com.
or
Not Currently Available for Direct Purchase