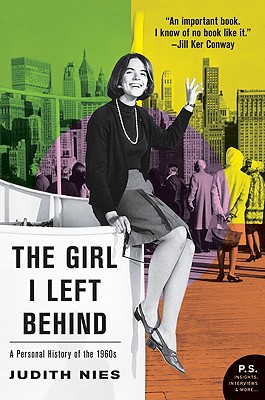 The Girl I Left Behind
A Personal History of the 1960s
Paperback

* Individual store prices may vary.
Description
At the height of the Vietnam War protests, twenty-eight-year-old Judith Nies and her husband lived a seemingly idyllic life. Both were building their respective careers in Washington—Nies as the speechwriter and chief staffer to a core group of antiwar congressmen, her husband as a Treasury department economist. But when her husband brought home a list of questions from an FBI file with Judith's name on the front, Nies soon realized that her life was about to take a radical turn. Shocked to find herself the focus of an FBI investigation into her political activities, Nies began to reevaluate her role as grateful employee and dutiful wife.
A heartfelt memoir and a piercing social commentary, The Girl I Left Behind offers a fresh, candid look at the 1960s. Recounting Nies's courageous journey toward independence and equality, it evaluates the consequences of the feminist movement on the same women who made it happen—and on the daughters born in their wake.
Praise For The Girl I Left Behind: A Personal History of the 1960s…
"An important book. I know of no book like it." — Jill Ker Conway
"Nies' combination period history and memoir is a highly valuable first-person record of a woman who finds herself, and the movement she grew with." — Publishers Weekly
"Refreshingly candid. . . . Nies' personal take on the ripple effects of the women's movement—both on those involved directly and those who followed—is honest and engaging." — Booklist
"Educational and entertaining." — Kirkus Reviews
Harper Perennial, 9780061176029, 400pp.
Publication Date: June 2, 2009
About the Author
Judith Nies has worked as a journalist, teacher, historian, researcher, and corporate speechwriter. The author of three books, including the classic biography Nine Women, she teaches a course on memoir as history and lives in Cambridge, Massachusetts.